WAX Magnetic Heaven Lemon Recordings reissue (2009)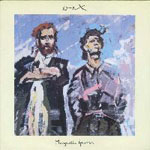 1986's "Magnetic Heaven" was the debut album by Wax, the duo made up of Graham Gouldman and Andrew Gold. Gouldman, a songwriter whose material had been recorded by the likes of The Hollies, Herman's Hermits and The Yardbirds, was best known as a member of 10cc. He first worked with Andrew Gold, previously a successful solo artist ('Lonely Boy', 'Never Let Her Slip Away'), on 10cc's 1981 album "Ten Out Of 10" and the pair reunited following 10cc's split and recorded an album as Common Knowledge which was unreleased until 1998.
With a fresh batch of songs, and now using the Wax moniker, they signed to RCA. The "Magnetic Heaven" album was recorded at RAK Studios and produced by Phil Thornalley. The multi-talented Gouldman and Gold were responsible for all of the instrumentation, and the presence of a drum machine gives the album a very 80's production feel.
The opening cut is the catchy 'Right Between The Eyes' which was not a major hit (#60 in the UK), although to these ears it's on a par with their smash hit single 'Bridge To Your Heart'- from the following year's "American English" (also reissued on CD by Lemon / Cherry Red). The rest of the original side one of the album is made up of blue-eyed soul number 'Hear No Evil', the Mr Mister-esque 'Ball And Chain' and melodic power ballads 'Shadows Of Love' and 'Marie Claire'.
Side two opens with the upbeat 'Systematic' - another track that had hit single potential. Both this and 'Breakout' sound badly dated due to the 80's production values, although they can still be appreciated as "of their time"! The pace then slows with the haunting 'Only A Visitor', 'Rise Up' and the instrumental title track.
This reissue includes an 8-page booklet with notes by Malcolm Dome, which incorporate fresh quotes from Graham Gouldman. Gouldman recalls that Wax were largely overlooked at the time - possibly because the project came just a little too late in their careers for things to happen. He says that, musically speaking, his partnership with Andrew Gold was the most joyous and fun he ever had with anyone.
Whilst it could be regarded as something of a guilty pleasure, "Magnetic Heaven" is still worthy of investigation for fans of the AOR / pop-rock style and is worth the price of admission for 'Right Between The Eyes' alone.
***
Review by Jim Henderson
Jim Henderson presents "Power Pop" on Get Ready to ROCK! Radio, Thursday 21:00, Sunday 14:00
---