Just witnessed your best live gig?.. send us a review!
VAIN
Camden Underworld, London 30 November 2009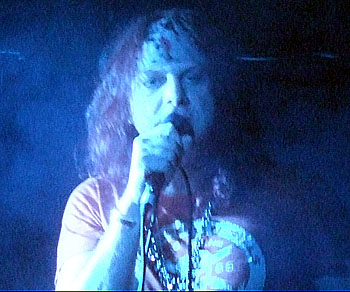 Glam Metal never really pushed my prog-preferring buttons. Too posey, too shallow, too up its own to merit my attention; even during the pre-grunge gory days of bands of rimmelled-up lite metal pretty boys.
Granted, the Crue and GnR had decent songs, attitude and stage craft that marked them out from the pack, but I regarded the majority as a steaming cesspool of false metal.
So I don't know what possessed me to venture out on the coldest night of the year so far to the frozen cultural tundra of Camden Township to witness 90s coulda-shoulda-made-it band, Vain?
Was it the addled GnR connection? The allure of a mystical second album only released in Japan? Or just morbid curiosity whether a so-blatantly named vocalist would live up to his label ?
As the band took the stage, all guyliner and goatees, bandanas and bare-chests, my negative preconceptions were further reinforced and I prepared myself for an hour of aural toil.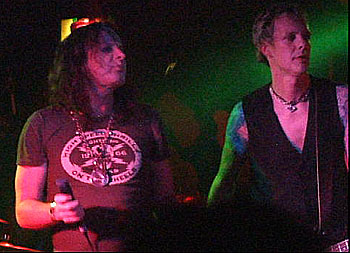 How I was wrong! Davy is a down-to-earth and engaging front man with a strong voice that has survived the ravages of sleazy living for over 20 years.
Regaling us with tales of life on the road, I loved the one about the band being so broke that gravy mix became their stock meal; as well as the story about romantic yearnings for 'momma hugs' on the tour bus.
He quickly won over even the ambulance chasers in the audience. But to be sure, this was no car crash, this was 90 minutes of great hooky songs in the best tradition, performed with relish by a band of Santa Rosa brothers that have reunited to show all the wannabes that you can be glam and sleazy as hell but have musical integrity.
It's a shame that the fickle hand of fate didn't grant them a longer stay in the Californian sun. Unlike many good-time party bands, there's no weak link in the classic line-up, and the whole band performs as a finely tuned and compelling unit.
The fact that my first exposure to their music was 2 days before the gig, yet the songs sounded familiar and fresh live, is testament to why Vain have outlasted and stand-out from most of their peers.
There's also some great light and shade to their set-list, with the slow groove of 'Smoke and shadows' being a particular standout among the fanboy faves 'Bite the bullet' and of course 'No respect'
Even if you probably think these songs are about you, don't call Mr Radar or Mr Wrong, just call Mr Vain.
Simply Glamtastic.
Set-list (and source album): Secret (NR) / Love drug (ATS) / Push me over (IFOON) / Down for the third time (NR) / Dee Dee (Glad she's gone) (F) / Who's watching you (NR) / Smoke and shadows (NR) / So free now (OTL) / Cover me (just one more time) (OTL)/ 1000 degrees (NR) / No respect (NR) / Beat the bullet (NR) ENCORE: Breakdown (MOI) / Ready (NR)
OTL = ON THE LINE (2005) IFOON = IN FROM OUT OF NOWHERE (2000) F = FADE (1995) MOI = MOVE ON IT (1994) ATS = ALL THOSE STRANGERS (1992) NR = NO RESPECT (1989)


Review and photos by Andy Rawll
---