Just witnessed your best live gig?.. send us a review!

URIAH HEEP Relentless Garage, London
4 November 2009
Three days before, Swedish rockers Europe rocked the night here as part of the Classic Rock Awards week at the newly redecorated Relentless Garage. Amazing what a new carpet and a lick of paint will do, but a great improvement nonetheless.
Tonight it was the turn of a band who are now entering their 40th year of existence who will soon be releasing 'Celebration', a CD featuring their greatest moments newly re-recorded by the current line up, along with a couple of new tracks which unfortunately weren't performed tonight.
On the last Uriah Heep tour, promoting the excellent 'Wake The Sleeper', the band made the bold move of playing that album in it's entirety, a brave move considering the wealth of material Heep have recorded over the years, but a successful tour it proved to be.
Tonight for this one off gig, the rumour mill was that this was to be more of a greatest hits show, but still, seven songs from 'Wake The Sleeper' fitted comfortably into the set.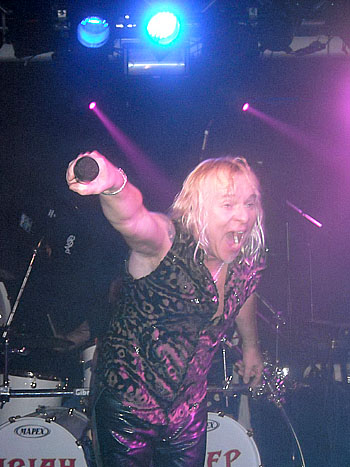 The opening barrage of the title track and 'Overload' closely followed by 'Tears Of The World' shows how much confidence the band now have in their new material.
'Stealin'' and my all time favourite track 'Sunrise' got the old Heep faithful going. It wasn't before long that we were treated to such early classics such as 'Gypsy' and a energetic 'Look At Yourself'. After seeing the last tour ,it seemed that they were banging out their best too early in the set this time.
It is a shame that due to ill health Lee Kerslake had to retire, but it has to be said that his replacement Russell Gilbrook is one powerhouse off a drummer giving the Heep a very strong backbone.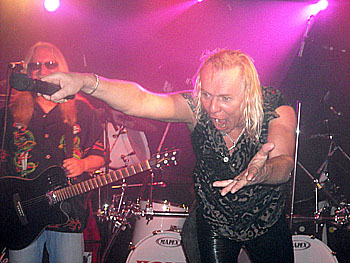 After a lengthy but shortened 'July Morning' and a quickfire 'Easy Livin'' the show was all over far too quickly, or was it because that I was enjoying myself too much?
The band wasted no time in coming back on stage for the encore. Guitarist Mick Box said ''This is a song that has been good to us over the years and has won us many Grammy's, or Grannies as we used to say in Germany to amuse ourselves.''
For this acoustic led number singer Bernie Shaw held his microphone out stretched above the crowds heads for us all to sing along to the chorus of ''Ahh ahh ahh ahh, ahh ahh ahh''. No wonder the Germans loved this song so much with it's easy to remember English made easy chorus back in the seventies.
With the backing tape of 'Land Of Hope And Glory' the band took their bow to great applause. Uriah Heep are one of England's greatest bands. It's a shame that they have been largely ignored here in Blighty. It's time to wake the sleepers.

Set list: Wake The Sleeper / Overload / Tears Of The World / Stealin' / Sunrise /Book Of Lies / Gypsy / Look At Yourself / What Kind Of God / Angels Walk With You / Shadow / July Morning / Easy Livin' Encore...Lady In Black


Review and photos by Mark Taylor
---