URIAH HEEP Celebration earMusic (2009)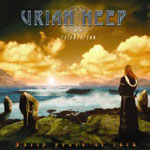 A celebration indeed, although there is an element of relying on past glories. This new album features two new tracks and 12 studio re-recordings of classics. But it is only fair that you hear this, because current pianist Phil Lanzon, vocalist Bernie Shaw and bassist Trevor Bolder are not only class musicians, but have been playing these tracks with Uriah Heep for 20 years now. I rate ex Bowie bassist Bolder as one of the best I've ever seen on stage.
The line-up here is bolstered by drummer Russell Gilbrook, who I last saw replace Cozy Powell in Bedlam, and he impressed me then too.
The new tracks'Only Human' and'Corridors Of Madness' are classic modern Heep. The 90s and 00s have seen the band release some excellent and criminally overlooked albums, with most fans and press (and compilations) concentrating on the Byron years (excellent though they were). But like I said the musicians here are excellent so it is good to hear their interpretations in the studio.
'Bird Of Prey','Look At Yourself' and'Gypsy' are operatic hard rock classics given a modern sound, and'Free And Easy' is a real blast.'Easy Livin'' Is always good too.
The only glaring omission is 'Return To Fantasy', the title track to the band's only top ten album. If you don't consider it a classic - the band's decision to open concerts with it a few years ago went down a genuine storm.
It is too easy to criticize releases like this, but it serves two main purposes; the older material is classic and should be enjoyed by all, and the current band (including mainstay guitarist Mick Box) are on top form, whether playing material new or old. Job done.
****
Review by Joe Geesin
---
| | |
| --- | --- |
| | Print this page in printer-friendly format |
| | Tell a friend about this page |