UMPHREY'S McGEE Mantis Freeworld DREECD5013 (2009)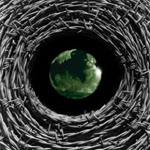 Prog Rock is alive, well and living in Chicago in the capable and at times inspirational hands of the unlikely named Umphrey's McGhee. And while 'Mantis' a part studio, part live double album evokes the bygone era of Yes, Gentle Giant, Zappa, Genesis, Jethro Tull, King Crimson and in the case of the opening track 'Made To Measure', Supertramp.
There's enough inspiration and restless creativity to satisfy even the most reticent rock palate. 'Mantis' is no retro album but rather two hours of cutting edge adventurous music from a contemporary progressive rock band who have built their style on Classic Rock antecedents and have come up with their own impressive variant.
Umphrey's McGee are one part complex arrangements and ambitious instrumentalism and one part jam band evoking the harmonies of west coast jammers Phish and the occasional anarchic feel of Reel Big Fish. But it is the fast changing tempos, the 'G Spot Tornado' like lightning runs and tension breaking layers of guitar and keyboard lines that make them so special.
The band's PR makes reference to the fact that this double album comprises 'material never previously performed on the road' and that being the case you can only marvel at their creativity, born of sheer musical brilliance.
The title track alone offers both sides of their essential oeuvre, being full of staccato Gentle Giant like runs, Jon Anderson style vocals and a final resolution in a dreamy Camel style keyboard led melody line with a mighty guitar break to boot.
On the first part of 'Cemetery Walk' they combine a funky opening groove with impressive double tracked harmony vocals and a telling blend of guitar breaks and keyboard motifs in a ball of energy that finally climaxes in a contrasting slow building crescendo.
'Turn & Run' features another vocal led progression which is nicely glued together by some impressive synth sweeps and a more impressive guitar, while 'Red Tape' is built on funky guitar groove with a fractured melody line.
Umphrey's even slip into a reggae groove and a Sting style vocal line on the live cut 'Higgins', proving if nothing else that their musical sweep remains proudly unfettered by restrictive labels. That view is further amplified by a Dead style jam and twin guitar interplay on another live cut 'Out of Order'.
They further demonstrate an equally keen sense of dynamics on the percussive led 'Ocean Billy', and push the marvellous very dense angular high speed guitar lines of 'Plunger' to the limit.
Ultimately 'Mantis' is the sort of album that should be celebrated on its own terms. This CD is premised on the admirable tenets of inventive creativity, marvellous compositional work, thrilling playing and those magical jammed out moments that make the live cut of 'Bridgeless' so potent and will surely make you reach for the play button again.
*****
Review by Pete Feenstra
---
| | |
| --- | --- |
| | Print this page in printer-friendly format |
| | Tell a friend about this page |