Just witnessed your best live gig?.. send us a review!
ULTRAVOX Hammersmith Apollo, London
24 April 2009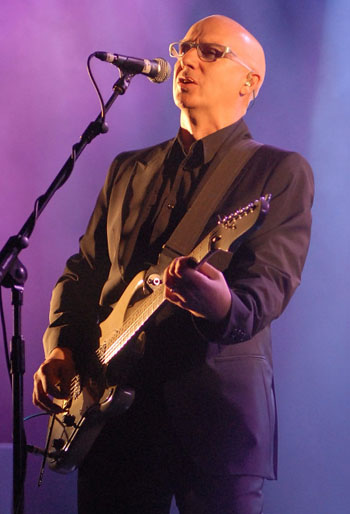 Photo: Lee Millward/GRTR!
I've waited nigh on twenty years to see this band live as I was (just) too young to see them in their early/mid-80's heyday and was rather excited when the band announced a reunion your last year. It's the classic line-up of Midge Ure (vocals/guitar/keys), Chris Cross (keys/bass), Billy Currie (keys/piano/viola) and Warren Cann (drums/keys).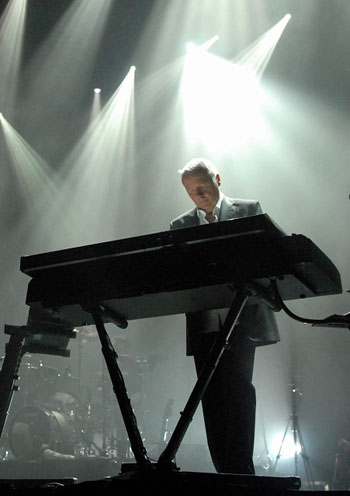 Photo: Lee Millward/GRTR!
The Hammersmith Apollo was crammed with a few audience members dressing in 80's garb as they may well have done the first time they saw the band.
Kicking off with 'Astradyne' shows this is not just a greatest hits tour and if you didn't know you'd think it was Kraftwerk or Tangerine Dream on stage (the same goes for the brooding 'Mr X').
Mind you the setlist does stop at the 'Lament' album and had nothing for the disappointing 'U-Vox' album. 'Passing Strangers' sets the crowd off although 'Vienna' is the one song that understandably gets the biggest cheer and reaction of the night.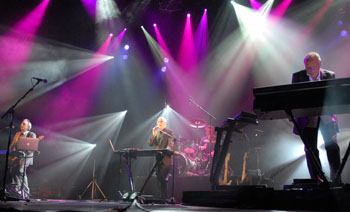 Photo: Lee Millward/GRTR!
A very impressive light and film show backs the band and another highlight is whenever Billy Currie whips out his viola, which got a cheer everytime.
'One Small Day' is one of the heaviest songs of the night and allows Midge Ure some six string action. Midge Ure still has the voice although sadly the backing vocals were barely audible all night which showed on songs like 'Lament' and 'All Stood Still'.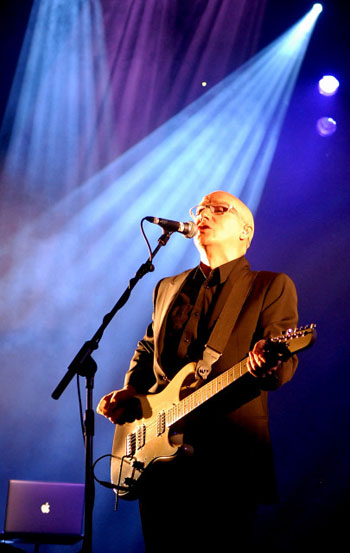 Photo: Lee Millward/GRTR!
Two cracking songs finished the night, 'Sleepwalk' and 'The Voice', whose chorus I am still singing in my head some 24 hours after the gig!
A brilliant gig by a band who seemed genuinely overwhelmed by the reaction they had from the crowd (so much so they lost time briefly during 'Thin Wall'). Hopefully the band will be back on tour again soon and who knows maybe some new songs if we're really lucky...


Setlist: Astradyne - Passing Strangers - We Stand Alone - Mr X Visions in Blue - Thin Wall - Death in the Afternoon - Rage in Eden - Lament - One Small Day - All Stood Still -Your Name - Vienna - Reap the Wild Wind - Dancing With Tears In My Eyes - Hymn
Encore: Sleepwalk - The Voice


Review by Jason Ritchie
Photos by Lee Millward/GRTR!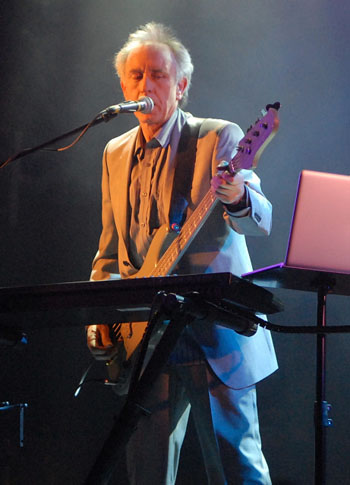 Photo: Lee Millward/GRTR!
---
| | |
| --- | --- |
| | Print this page in printer-friendly format |
| | Tell a friend about this page |