ULTRAVOX Quartet/Monument Chrysalis/EMI (2009)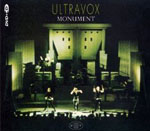 The Ultravox re-issue programme continues with two more releases. First up a live CD/DVD set Monument which was a live set from 1982 released originally back in 1983 although it missed a couple of songs of the live video which are on this CD and the video is now available as a DVD on this re-release. The song 'Monument' itself is a studio track with the rest of the songs being live. Pick of the bunch has to be 'The Voice' and 'Vienna', both of which sound good live although 'Hymn' loses some of the vocal backing found on the album version and 'Passing Strangers' sounds subdued in places.
The DVD is a good bonus as the band does put on a good light show to back their music. 'The Song (We Go)' is the previously unreleased track added to this re-release. ***
'Quartet' along with 'Lament' are for me the band's peak. Quartet has the hits 'Reap The Wild Wind' (available in an extended and live version on the bonus disc), the awesome 'Hymn' (just listen to that intro!), 'We Came To Dance' and 'Visions In Blue' which has a great drum part midway through. Add to this 'Cut And Run' and 'Serenade' which could also easily have been hits and you have a perfect example of 80's electronic pop rock.
The bonus disc has thirteen songs including three previously unreleased live tracks 'New Europeans', 'I Remember Death In The Afternnon' and 'We Stand Alone'. All three were recorded at the live show 'Monument' was and its strange they aren't added as bonus tracks to that release. ****½
If you are new to Ultravox grab 'Quartet' as it shows the band at their best and the added songs are on the whole pretty damn fine as well. 'Monument' is more for the collector/avid fan but still worth a listen.
Review by Jason Ritchie
---
| | |
| --- | --- |
| | Print this page in printer-friendly format |
| | Tell a friend about this page |
***** Out of this world | **** Pretty damn fine |
*** OK, approach with caution unless you are a fan |
** Instant bargain bin fodder | * Ugly. Just ugly
get ready to rock is a division of hotdigitsnewmedia group