THE TIGER LILIES The Brothel To The Cemetery
Neu RSR-0005 (2009)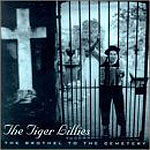 The godfathers of gothic alt.cabaret return with 'The Brothel to the cemetery', another controversial leftfield offering that wouldn't be the Tiger Lillie if it didn't offend anyone.
And therein lies an unlikely barometer by which to judge a band such as this. For it's one thing to have a 20 year career based on shock tactics or in their case a musical called Shockheaded Peter, but its quite another to have the ability to maintain your standards, no matter how excruciatingly extreme they may be. And the Lillies do dark imagery very well.
They also have the perfect conduit in Martyn Jacques's edgy falsetto to bring every sinister nuance to each offering. In fact the brooding, moody feeling is unrelenting, the themes unstinting as the thematic taboos of death and various creepy characters and dark emotions are brilliantly explored.
For whatever well they collectively drink from, this band's creative juices show no signs of letting up. The music veers from Dervish and accordion led Gypsy music to French Chansons and even County.
And while Nick Cave may dwell on 'Murder Ballads' The Tiger Lillies add a bizarre angle to their a songs, most notably on the mirth inducing, but equally cringing 'Terrible', which is born of a Dervish whirl over which Martyn Jacques intones, 'I'm terrible I'm terrible I shouldn't be allowed, to sing my songs of filth to a decent crowd'!
But Jacques is nothing if not cute and knowing his ghoulish falsetto might remind people of say the late Klaus Nomi, Pavlov's Dog's David Surkamp or even Tiny Tim, he never misses an opportunity to ham things up.
Look no further than the wry humour of 'Arthur' for example, which is as welcome as it is almost inevitable. For this is a band that for all its unedifying lyrical material, carefully juxtaposes different pieces to make a coherent whole. And just as you think you've got their measure up pops Martyn with a death rattle caustic growl on 'Crime' a song about debt collection, before he launches into another death ditty, 'Pretty Soon' and the uncompromising and very gloomy 'Old Gracefully'.
But while the band may be lyrically consumed by doom and gloom the music sometimes sits in contradiction with the lyrics. Hell, the Tiger Lillies almost swing on 'Mortuary' another rumination of death on which Martyn does his best to effect a sore throat and adds a subliminal phrase that makes 'Mortuary' almost sounds like 'debauchery'. This is followed by a beautifully crafted ballad 'Reap What You Sow' on which the slight rasp to the vocal gives the piece a sense of pathos and evokes the opening verse of Bowie's 'Five Years'.
The Lilies then revert to another example of the lyrical and musical dichotomy on' Banging in the Nails'. This song exalts the dubious joys of crucifying Jesus, on the back of a thigh slapping Country hoe-down. 'Blasphemous? Probably. Outrageous? Definitely. Unique? Totally. This is the Tiger Lillies, who else! There's a lot more but near the end they almost converge with reality or perhaps mundanity with the refrain 'well it's grim up north, but it's grimmer than that in Slough!'
****
Review by Pete Feenstra
---
| | |
| --- | --- |
| | Print this page in printer-friendly format |
| | Tell a friend about this page |