THE TREWS No Time For Later Edel Records (2009)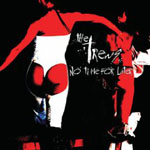 The Trews return with their third album with their last album 'Den Of Thieves' being a very strong slab of classic rock with a modern spin. That album received very favourable reviews including an album taster given away with 'Classic Rock' magazine plus they were well received on tours supporting Status Quo and Deep Purple. Although this is the band's new album it has been out in their native Canada since early 2008 and finally gets a European release on 17th March.
Musically they pick up where 'Den Of thieves' left of with a good dose of stomping rockers like the title track, 'Dark Highway' and 'Burning Wheels', which has a real AC/DC vibe to it. They can bring it down a notch or two though as 'Hold Me In Your Arms' ably demonstrates. A couple of so so tracks towards the end of the album do detract slightly but it picks up nicely with the aforementioned 'Burning Wheels' and 'Ocean's End'.
There are three real gems on here: first up is 'Paranoid Freak' which is driven along by heavy guitars and a jaunty piano riff (the song ends nicely with some great piano playing). 'I Can't Stop Laughing' is an instant song (like 'Makin' Sunshine' of their last album), catchy chorus and it even features bagpipes midway through. Album closer 'Ocean's End' is the show stopper though, featuring an impassioned vocal by Charlie MacDonald backed by a monster drum sound and top notch guitar solos.
The Trews have done it again with a fine set of tunes that tip their hat to bands like AC/DC and the criminally underrated Collective Soul. Crank it up and enjoy!
****
Review by Jason Ritchie
---
| | |
| --- | --- |
| | Print this page in printer-friendly format |
| | Tell a friend about this page |