THE POODLES Clash Of The Elements Blistering Records (2009)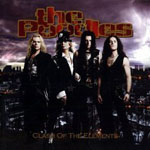 The Poodles return with their third album and their first without guitarist Pontus Norgren who left to join HammerFall with Henrik Bergquist coming in as his replacement. It's a pretty seamless transition without much change to the band's overall sound. That said this is possibly the weakest album they have released to date due to the fact that some songs just lack the catchy hooks the band are so well known for. Also there are possibly one too many ballads on offer when another rousing 'Metal Will Stand Tall' like anthem would have improved the album overall.
Fans of the band will enjoy 'Give Me A Sign', 'Don't Rescue Me' and 'I Rule The Night' all of which easily match their previous musical highlights.
Not their best but still very enjoyable and the album contains enough strong tunes to warrant parting with your hard earned cash. Their next album though will have to be a monster!
***½
Review by Jason Ritchie
---
| | |
| --- | --- |
| | Print this page in printer-friendly format |
| | Tell a friend about this page |
***** Out of this world | **** Pretty damn fine |
*** OK, approach with caution unless you are a fan |
** Instant bargain bin fodder | * Ugly. Just ugly
get ready to rock is a division of hotdigitsnewmedia group