THE MOVE The Very Best Of Salvo (2009)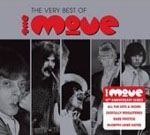 For too long in the shadow of the progressive pomp behemoth that they were to transmogrify into ("Ladees and Gennellmen, I give you .. the Electric Light Orchestra"), The Move (or at least their catalogue) is rightly back under the spotlight.
Eschewing conventional 'Greatest Hits' formulae, Salvo's reissue is an intelligent, carefully considered delve into one of the most exciting bands of the '60s. Of course, the hits are here and they sound just fab post-remastering, the paisley pop of Blackberry Way, Fire Brigade, I Can Hear the Grass Grow, Here We Round The Lemon Tree and Flowers In The Rain giving way to Brontosaurus and When Alice Comes Back To The Farm (chunky slabs of hard prog-rock both) by way here of rare B sides and concert material from London's Marquee Club in It'll be Me and a cover of Another Piece Of My Heart, all too brief reminders of a potency live the equal of period chart-busters and hooligans The Who, deploying a no-prisoners dynamic only hinted at in their many telly appearances.
Darlings of Top of The Pops, they tore up the stages, upset a Prime Minister and opened for BBC Radio 1 before the 'cellos won the day. Pure grit into pearls.
****
Review by Peter Muir
Peter Muir presents "Progressive Rock Fusion" on Get Ready to ROCK! Radio, Sunday 19:00, Monday 19:00
---
| | |
| --- | --- |
| | Print this page in printer-friendly format |
| | Tell a friend about this page |