THE JAYHAWKS Music From The North Country American (2009)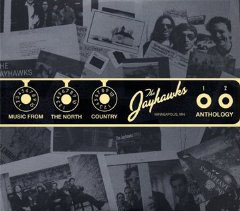 The best thing about reviewing music is that, every now and then, something will turn up that you would have otherwise overlooked Ė and yet becomes a favourite amongst your own record collection. This new 20-track anthology by The Jayhawks is one of those CDs.
'Music From The North Country' includes some of the best tracks form the bands near 25-year career. Combining elements of country, pop, rock and folk, the band have released 7 albums since forming in 1985. Although The Jayhawks are not a household name, and have not enjoyed massive chart success, they have a solid following and these fans were recently rewarded when the most celebrated line-up reformed for a handful of festival dates.
The album opens in an upbeat style with 'Two Angels' and continues at this pace for at least the first half of the album. 'Waiting For The Sun' could have been written by Tom Petty and several of the songs have a hint of Gram Parsons, Neil Young and Petty to them- no bad thing. 'Trouble' has the sound, which later made singer/songwriter Ryan Adams as popular as he is, whilst 'The Man Who Loved Life' is perfect melancholy country pop. Other highlights include 'Ainít No End', 'Clouds', 'Big Star', and 'Iíd Run Away'. The last few tracks on the album are from the bandís 2003 'Smile' album, produced by the legendary Bob Ezrin, the songs are a bit more pop orientated than their earlier material.
The album comes as a single CD or a 2 CD/DVD set, the second disc containing rare material, demos, B-sides etc. Hopefully there will be more to come from The Jayhawks and the story doesnít end here, however, if it does then 'Music From The North Country' is a great document to the band.
****
Review by Nikk Gunns
---
| | |
| --- | --- |
| | Print this page in printer-friendly format |
| | Tell a friend about this page |