THE INSOMNIACS At Least I'm Not With You Delta Groove DGPCD130 (2009)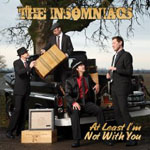 There may not be something essentially curious about a young band recreating the sounds of two or three generations before. And in the main The Insomniacs do a good job, polishing up some old time blues, R&B and Rock & Roll.
They deliver their chops with alacrity while vocalists/guitarist Vyasa Dodson leads from the front. On top of that you get some honest to the core liner notes from west Coast Jump blues guitarist Junior Watson (Canned Heat/Hollywood Fats band)who accurately describes the opening 'Lonesome Boy' as 'very cool'. And it is significant that Junior should be called on to add his credentials as he's spent a lifetime ploughing the same furrow as his protégés.
We're talking old style R&B, occasional west coast Swing and in the case of Johnny Guitar Watson's 'Broke & Lonely' a combination of a New Orleans and country groove on the back of Joel Paterson's pedal steel guitar. And as for most of this album Dodson's stinging guitar work and fulsome tone makes up for what the voice can't quite achieve.
Don and Deweys version of Little Richard's 'Directly From My Heart to You' for example, loses any semblance of soul and feeling (contrary to Junior's gushing recommendation) in the Insomniacs somewhat ponderous horn led arrangement on which the big guitar should have taken a back seat. Moreover, Vyasa just doesn't have the vocal range to bring full expression to this old classic.
On the slow blues 'Description Blues' on which pianist Alex Shackeri impressively switches to organ, Vyasa Dodson phrases well enough but again lacks the range and timbre to dig deep enough for a slow blues such as this. But where this is a disappointment the tightly arranged, big drum sound of the sleazy 'Maybe Sometime Later' works well, being premised on the kind of dynamic that at could propel any member of the band into the front line at any moment.
Junior of course would love the Jump Blues feel of the instrumental 'Root Beer Float' on which pianist Alex Shakeri sparkles and he'd probably smile at the rockin' work out on 'Baby She Can Talk', but the lightweight vocals come to a head on the horn led 'Baby Don't Do It' which frankly drags along, a fact the band try and compensate for in the following Surfing rocker, 'Angry Surfer'. This is Fab T Birds style rocker with a pounding rhythm section is much more up their street.
They finish on a well paced triumvirate of a slow blues another rocker and a piano led boogie. As I said the band deliver their chops proficiently, and in the case of 'Insomniac Boogie' its complete with pumping horns and cool jazzy guitar runs from Vyasa, who if he isn't going to always cut it with his vocals sure as hell leaves you in doubt about his playing ability.
The bottom line for many will be that this band can rock, swing and boogie and that will probably be enough to give them a few more sleepless nights to live up to help them live up to their name.
***
Review by Pete Feenstra
---
| | |
| --- | --- |
| | Print this page in printer-friendly format |
| | Tell a friend about this page |