THE HOURS See The Light (2009)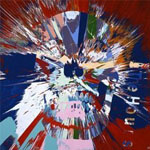 I'm not sure that I'm necessarily the best person to pass judgment on The Hours' follow up to their well received 2007 debut album Narcissus Road.
There's no doubting that Antony Genn and Martin Slattery are talented writers, multi instrumentalists and producers who have played as hired hands with industry heavyweights such as Shaun Ryder, Jarvis Cocker and Joe Strummer.
Inspired by a Radiohead gig the pair decided try their hand at a band of ther own they went into the studio pretty much unprepared and what emerged was their critically acclaimed, melodic and anthem debut album.
Beautifully clothed in Damien Hirst cover art, the mainstream press just about creamed themselves awarding the album a plethora of plaudits and nominations for 'album of the year'.
That I can't honestly say The Hours have registered on my musical richter scale probably says more about me than The Hours. But then, Radiohead leave me cold as well, and as for Coldplay - let's not go there.
Now a seven piece, and once again featuring Damien Hirst original artwork (although it's little more than a negative image of the Narcissus Road cover and frankly, I've seen more impressive A level projects), The Hours tackle the 'difficult second album' with Flood (U2, Nine Inch Nails, Depeche Mode, Sigur Ros and Goldfrapp) on production duties.
Q have already predictably awarded the album a maximum 5 stars, which speaks volumes. See The Light breaks no new ground and is a grandiose affair - beautifully played and produced with plenty of evocative piano, swooping vocals, and anthemic choruses. But it's aimed fairly and squarely at the Notting Hill, VIP enclosure set. And on that basis it hits the mark. So if the likes of Coldplay bring you out in goosebumps, invest with confidence. For me, darlings, it feels just a little too contrived.
***
Review by Pete Whalley
---
| | |
| --- | --- |
| | Print this page in printer-friendly format |
| | Tell a friend about this page |