THE DREAMSIDE Lunar Nature Lion Music (2009)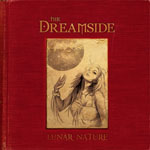 Gothic metal/rock band the Dreamside have been around for over 15 years now and this album is a 'must have' for those who love female fronted gothioc rock with electro undertones. There are a lot of female fronted metal/rock acts out there now, with many very formula driven but the Dreamside really do have their own sound. Plus in vocalist Kemi Vita they have someone who has a lovely etheral tone that lures the listener into the music.
They mix metal/rock on 'Seeds Of Pain' (which sees Information Society join the band), a real jaw dropping moment on 'Hush' which hints at Pink Floyd and Porcupine Tree, whilst 'Sticks And Stones' couples lush arrangements with powerful vocals.
What stands the Dreamside out from a crowded field is a) the vocals of Kemi Vita which never need to resort to the high pitched tones used by other vocalists and b) they successfully meld rock with electro backing. Like Depeche Mode but better! It may come out in December but I'd hazard a guess this would make a few year end 'best of' lists for lovers of gothic rock.
****½
Review by Jason Ritchie
---
| | |
| --- | --- |
| | Print this page in printer-friendly format |
| | Tell a friend about this page |
***** Out of this world | **** Pretty damn fine |
*** OK, approach with caution unless you are a fan |
** Instant bargain bin fodder | * Ugly. Just ugly
get ready to rock is a division of hotdigitsnewmedia group