THE DAMNED Reissues Universal (2009)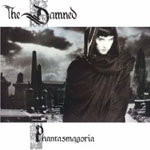 The mid-80s was a great time for British music, and The Damned were no exception. 1985 and Phantasmagoria was The Damned's first post Captain Sensible album. Keyboardist Roman Jugg had moved to lead guitar, with Jugg sharing lead with Sensible on the latter's last recording, 'Nasty', a track played on The Young Ones. So with Jugg doubling up, and additional keyboards and brass, it is admittedly a commercial album, but it did prove hugely successful. The overall feel of the album is gothic pop with a punk / rock edge. But The Damned could always hold a tune infinitely better than their contemporaries.
Vanian's dark vocals fit the music perfectly, and Rat Scabies proves his skill with a range of rhythms. 'Street Of Dreams' is catchy and memorable, 'Shadow Of Love' as strong, and 'There's Come A Day' a more complex song and thoroughly enjoyable too. The strongest number here though, and the most gothic too, is 'Sanctum Sanctorum' with a very big sounding keyboard intro which hints and church organ.
'Is It A Dream' is another excellent if commercial number, and the catchiest moment (and top single video) is 'Grimly Fiendish'. Equally, 'The Eighth Day' has a good solo.
The band released several singles, all in a variety of formats. So there are whopping 18 bonus tracks here, going over to a second disc. Three Peel Sessions aside, there are a plethora of bonus tracks, Alternate mixes, non LP tracks, and live tracks that include 'Curtain Call', 'Pretty Vacant' and 'Wild Thing'. Phew!! *****
The following year's Anything tried to cement that success, and here is bolstered by an equally dazzling array of bonus single tracks. Gone was the gothic edge, this was mainstream punk/pop/rock, and is worth buying alone for the bonus non album hit single 'Eloise'. The opening title track is a good lead, and 'Alone Again Or' is as strong as guitar led pop-rock got in the mid 80s.
'Gigolo' has a nice circus tough, and 'The Girl Goes Down' is strong and spooky. Yes there are plenty of good tracks here, with power and melody, but it lacks the catchiness and identity of the previous outing. ***½
Both albums come very well packaged, a period of the Damned's history that should not be overlooked.
Review by Joe Geesin
---
| | |
| --- | --- |
| | Print this page in printer-friendly format |
| | Tell a friend about this page |