TERRY & THE PIRATES Comanche Boots/Too Close For Comfort Acadia ACAM 8210/8211 (2008)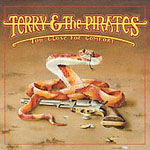 Both these albums clearly show the pros and cons of archive recordings in as much as they uncover some forgotten gems and occasional inspirational live moments, but as on these two CD's this has to be offset by some shaky audio quality and frankly a few outings that might have been better left on the shelf.
In that respect Too Close For Comfort offers the best option being a cohesive album with 6 bonus tracks, while Comanche Boots lacks both the material, the audio quality and ultimately offers only a limited amount of John Cipolinna.
And it is the figure of Cipollina who looms large in Terry & The Pirates. For while Greg Douglass provides some incendiary licks and Terry Dolan is consistent in his quavering fiery vocal approach, JC hits both the highs and lows in his playing. It's an inconsistency that can be applied to the band as a whole.
Perhaps it is best to start with the upside. Originally released in 1979, Too Close For Comfort finds Terry & the Pirates flying the flag for some uncompromising rough edged post psychedelic West Coast rocking. For while many of their Bay Area cousins were either usurped into corporate rock or simply faded away, Terry & the Pirates stuck steadfastly to their dream, albeit mainly in the confines of club land.
The opening 'Inlaws & Outlaws' goes back to 1970 and is simply a classic West Coast style rocker. Driven by Nicky Hopkins' sparkling piano lines, fleshed out by Greg Douglass's fuzzy guitar, some folk rock style bv's and the lilting bass of Hutch Hutchinson, the number careers towards a climactic guitar crescendo. If nothing else this album is worth buying just for this track alone although the much later fiery reading of Rodney Crowell's 'Ain't Living Like This' and the feverish 'Rainbow' also impress.
Terry Dolan's vocals on 'Rainbow' were portentously reminiscent of the later New Wave Patty Smith vocal style. In between there are a number of spunky offerings including 'Brown Skin Mo nkey bag' which is a lovely collision of heavy psychelic guitar with punky vocals. And while the mesmerising chiming guitars on the Jackie Wilson's hit 'Higher & Higher' gives you an idea of just how this band could cook on even on the most unlikely material, there's always a tension that suggests they were always teetering on the brink of either inspiration or disaster.
On tracks like the early career ballad 'Angie' the band seem to be trying to pursue a more melodic pop route while a decade later the gentle refrain of 'Yes I Do' finds them belatedly pushing in a similarly considered direction. Far more satisfying is the Cipollina led 'Inside Out', complete with a guitar phrase from 'Babe I'm Gonna Leave You'. ****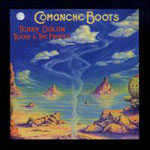 Comanche Boots in contrast is more of a jumble as befits a project made up of unreleased studio recordings and demos. Throw in a rough version of Lonny Turner's 'Jungle Love' (later commandeered by Steve Miller) and you have a potentially interesting but uneven proj ect. In spite of the gentle funky opening of 'Cuckoo' complete with an impressive husky vocal performance by Dolan, the album is a mash mash.
The rocking take of Tom T Hall's 'I Can't Dance' is poorly recorded and while Dolan works up some much needed passion and revisits his Patti Smith style phrasing on 'Yankee Son'. It's a rare moment of spark. The title track is a mildly engaging instrumental while Nicky Hopkins' 'unimaginatively titled 'Nick's Tune' feels like filler. And by the time of the modal noodling of 'Truer Than Blue' the music is almost an anathema for all fans who prefer Dolan the firebrand. In short there's nothing worse than a great jam band holding back while they search for songs. There's a welcome lighting of the fuse on the penultimate 'Something To Lose' with a neat acoustic/electric guitar duet, but even the album's selling point of 'Jungle Love' turns out to be a poorly recorded, sloppy outing. File under for collectors only. ***
Review by Pete Feenstra
---
| | |
| --- | --- |
| | Print this page in printer-friendly format |
| | Tell a friend about this page |