STRYPER Murder By Pride Frontiers (2009)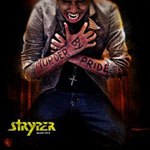 The yellow 'n' black attack are back! Yes everyone's favourite white metal band are back with an album mainman Michael Sweet said would see a return to the band's classic OTT harmony filled sound after their last album, 'Reborn' veered towards the more modern rock sound and was a tad disappointing as a result. That said the album opener may have some fans checking the CD sleeve to see they haven't bought say a Good Charlotte album as 'Escape From The Sun' has a real pop punk edge. Damn fine tune and a good choice of opener.
There is a cover on here, a blazing run through Boston's classic 'Peace Of Mind' which features Boston guitarist Tom Scholz. If anything Stryper have made this a heaver song than the Boston version. They also rework their older song 'My Love' although in this new form it fails to add anything new. Never a band to shy away form a big production ballad the band have three on here and 'My Love, My Life, My Flame' is then pick of the three.
Michael Sweet is on fine vocal form and the one change in the band sees the experienced session drummer Kenny Aronoff man the drumkit throughout as Robert Sweet the self-styled 'visual timekeeper', missing due to family reasons. But he will be back for the band's live dates.
Definitely a return to form and I am sure the band's fans will enjoy this album immensely.
****
Review by Jason Ritchie
---
| | |
| --- | --- |
| | Print this page in printer-friendly format |
| | Tell a friend about this page |