STREET LEGAL Bite The Bullet Frontiers (2009)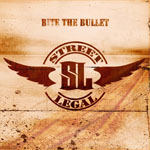 First on the scene in 2000 with their Thunderdome album and even an appearance on UK soil at the Gods festival in Wigan, Norwegians Street Legal are unexpectedly back in business after a long absence.
Openers Loading Up and Somebody Up There Likes Me are purposeful anthems and the most striking thing is the extent to which bassist/lead singer Bjorn Boge has the vocals inflexions of Philip Lynott, though the musical backing is traditional hard rock with Lizzy one influence among many and comparatively less reliance on their twin lead guitar trademark.
Sometimes the influences are taken to extremes- Unconditional Love, the best tune on offer has a Dancing in the Moonlight vibe to it. Shadow in my heart is their attempt to reprise Still in Love with You and by the time I got to the excellent celtic instrumental Battle of Kringen, I was playing 'name that Lizzy tune' (Emerald). However the more frantic numbers, the title track and Warrior of Genghis Khan, with (hopefully!) tongue in cheek lyrics hint at Motorhead and Ted Nugent. By contrast, the cover of Maniac, really works, rocking up an 80's pop hit.
An enjoyable effort particularly for those such as myself who still feel Thin Lizzy were never replaced, but it all sounds a bit too familiar and it would be nice to have had more of their own style.
A visit to the band's myspace page to sample their delights is essential. And Gee Wiz ... a compulsory purchase for those who like the quirky indie roots pedalled by the likes of Gillian Welch, Amy LaVere, Fleet Foxes, Oh Laura, and Le Reno Amps.
***
Review by Andy Nathan
---
| | |
| --- | --- |
| | Print this page in printer-friendly format |
| | Tell a friend about this page |