THE STONE GODS Silver Spoons And Broken Bones (2008)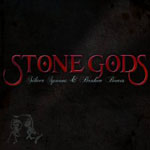 Formed by ex-Darkness members guitarist and songwriter Dan Hawkins, bassist Richie Edwards (who switches to guitar and vocals) and drummer Ed Graham (who has since left the band to be replaced by ex-Bush member Robin Goodridge) with the band completed by bassist Toby MacFarlaine. The band have been busy touring the UK supporting amongst others Airbourne.
This is not The Darkness in sound but boy they still pen damn fine tunes! 'Burn The Witch' is a real foot stomping metal anthem, perfect for the live arena. 'Don't Drink The Water' and 'You Bought A Knife To A Gunfight' are top notch hard rock tunes, very fast paced with instant choruses and never outstaying their welcome. 'Defend Or Die' sees the band dip into early Metallica riffing, although the song does seem to lose its way midway through.
'Start Of Something' is made for radio, instant hit material and not unlike the Stereophonics (a band that come to mind again on the excellent slow burner 'Lazy Bones').'Oh Whereo My Beero' sounds like a Ginger outtake, not a bad listen but hardly essential.
A very enjoyable and accomplished debut album, nothing like the Darkness and one for fans of catchy riff based hard rock/metal. Streets aheaad of Hot Leg that's for sure and album number two should see the band consolidate further on this strong debut release.
****
Review by Jason Ritchie
---
| | |
| --- | --- |
| | Print this page in printer-friendly format |
| | Tell a friend about this page |