STEREOFLUX Stereoflux Zero Music Group (2009)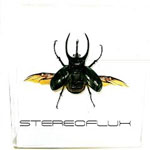 California alternative rock; the kind that seems to relish in and even promote poor production.
Opening track 'Photograph' is melodic, plenty of energy, but the crashing rhythms are full of what sounds like bright trebly distortion, while the in 'Youíre Destroying You' the drums are down and the vocals and guitar are bright. Some good vocal harmonies though.
'Crazy' is more grinding metal with a driving bass line. The mix of riffs and acoustic work is good, but in between, through a combination of effects and strumming, itís hard to discern the guitars at all. Shame about those segments because there are excellent guitar moments elsewhere in the song.
'Burning' nods back to the 80s, a touch of Cult in there, and elsewhere there are mixes of acoustic rock, Crash Test Dummies, probably a whole lot more too, but the music isnít inspiring me enough to follow that through.
Some good work along the way, some decent melodies, but too much crashes together in a narrow mid range and sounds jumbled. When it moves out of that, itís actually pleasant.
***
Review by Joe Geesin
---
| | |
| --- | --- |
| | Print this page in printer-friendly format |
| | Tell a friend about this page |