STEELY DAN The Very Best Of Universal 5320451 (2009)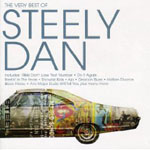 Oh no, I hear you utter. Another Steely Dan compilation. What's up? Well, not a lot really. For those of you who may already have a "Best Of" in your collection, keep it safe.
Released to coincide with the band's UK dates in June, this 2-CD collection could be termed "cash-in", merely providing new packaging for those who have spent three decades with their mufflers on. And, wait a minute, this is a duplication of the 2005 set "Showbiz Kids", a reissue of an earlier (2002) release.
If you are going to regurgitate back catalogue, the least you could do is provide some meat for the two (or in this case 33) veg. There are no unusual tracks, no bonuses (not even the ubiquitous DVD), and even the liner notes are tired. I mean any b----r can wax lyrical about Steely Dan's "sinuous blend of groove, harmonic structure and frankly outrageous playing" and "musicians with a vision". Perhaps a new interview with Walter and Donald would have provided more insight and therefore more incentive to purchase. The paucity of recording information is also a glaring oversight for hardcore Dan fans.
Whatever, this compilation picks off the more predictable suspects from their studio albums and underlines that the duo have not exactly been busy since 1980 when this compilation ends. And sadly that's another criticism: the two Millennium albums are not referenced. (Check out 2006's 'Definitive Collection' for that).
As a reiteration of the Steely Dan classic canon, and our collective memory of the same, 'The Very Best Of' delivers. But for the more discerning it is an unashamed cash-in, and the only incentive it delivers is - sadly - to the illegal downloader.
***
Review by David Randall
---
| | |
| --- | --- |
| | Print this page in printer-friendly format |
| | Tell a friend about this page |