Just witnessed your best live gig?.. send us a review!
STEEL PANTHER
Shepherd's Bush Empire, London 16 September 2009
Photos by Noel Buckley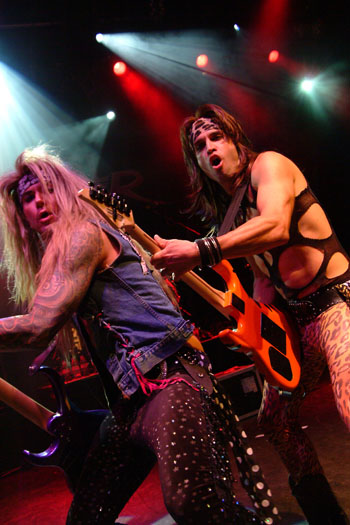 Tonight the Shepherds Bush Empire was turned into an Empire of Bush as a magnitude of excited female fans were to lose thier inhibitions to feel the steel of the mighty Panther.
Two decades ago Poison wanted you to talk dirty to them and now Steel Panther were returning the compliments, treating their women mean and keeping them very keen.
Love them or loathe them, there is no denying that Steel Panther have made the best glam metal CD since the bringing down of the Berlin Wall, a band that has no boundaries, with their un-PC lyrics and chest beating antics, fans are lapping it up and wanting to party like it's 1987 all over again.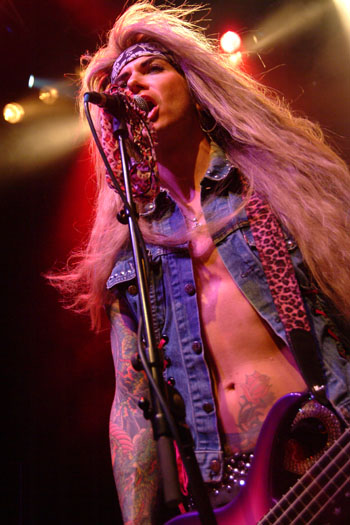 I saw the band earlier in the year at the 229 club, here in the capital, and was intrigued to see if they were a one trick pony or a band to gallop the whole furlong, after tonight's show they're definitely onto a winner.
In the eyes of a Steel Panther fan, the band can do or say no wrong, Mary Whitehouse would be turning in her grave if one of her granddaughters was caught here with a backstage pass.
No one escapes the between song banter. Band members were the butt of gay jokes, female audience members were getting sexual innuendo rammed down their throats, paedophilia raised cautious smiles ,but we all tittered along and females from Essex got a dedication to the 'Girl From Oklahoma' for the similarities.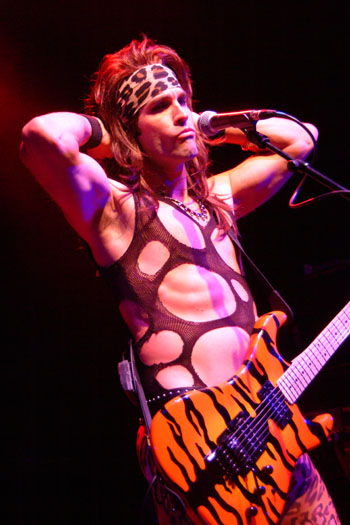 Let's not forget that the band are all accomplished musicians too. Guitarist 'Satchel' did a ear blistering solo that one Mr Edward Van Halen would've been proud off. Every track is already bona-fide classics, but with only one album under their chastity belts the set tonight had to be panned out a little with the inbetween song tomfoolery.
It will be interesting to see them support ZZ Top later this year at the aircraft hanger of Wembley Arena where I hope they can forget the jokes and deliver a shock and awe set, because the songs are awesome in their own right.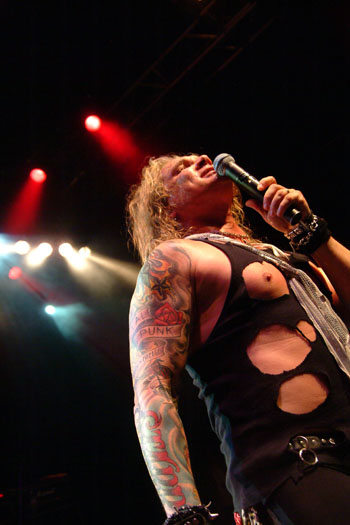 Singer Michael Starr got one of the biggest cheers of the night ,when he announced that Steel Panther are to play at the Download Festival for 2010, before inviting female fans to come up on the stage and join them for a cover of Van Halen's 'Panama', a track they learned in their Metal Skool days on the Sunset Strip, followed by a roof raising version of Motley Crue's 'Kick Start My Heart'.
Tonight I felt the Steel.

Set list: Eyes Of A Panther/ Asian Hooker/Fat Girl (Thar She Blows)/ Party All Day (F*ck All Night)/ Community Property/ Hells On Fire/ Girl From Oklahoma/ The Shocker/ Stripper Girl/ Death To All But Metal...Encore...Turn Out The Lights/ Panama/ Kick Start My Heart.

Review by Mark Taylor
Photos by Noel Buckley
---