SPIRIT The Archive...An Introduction Acadia ACAB9003 (2008)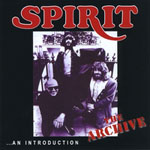 Perhaps more accurately titled 'The Spirit of Randy California' than a Spirit album as such, 'Spirit - The Archive...An Introduction' is a gem of a compilation record. For despite comprising material his later post Spirit career plus a few 'Potatoland' outtakes, this is an album that is as the title suggests a perfect introduction to the post Hendrix oeuvre of Randy California. But where Hendrix liked to experiment and make the guitar at the epicentre of his work, Randy California mines a wider musical source with strong melodies, a variety of sounds effects and a broad stylistic sweep that is pure West Coast.
It is ironic therefore, that the late guitar player will probably find a wider acceptance now for his post psychedelic soulful output than at the time of its recording. Music journalist Mick Skidmore has diligently worked on a collection of unreleased recordings from Randy's personal archives and this 20 track 'introduction' does exactly what it says on the tin.
Every aspect of Randy's musical vision is represented - be it psychedelic rock, post acid drenched soul, down home acoustic blues or even his heartfelt ongoing political concerns. The latter aspects infuse the opening military call up lament, 'Sons of America', the hard hitting 'Shock Value' and the eco warnings of 'Oil Slick-Million Years Suite'.
There are also some unexpected highlights such as the stunning 'Cages' which is simply magnificent and would easily fit into his acclaimed early Spirit career. It's a melodic, mellow, meandering piece predicated on a repeated guitar motif and is a piece of real beauty that is lifted mid-number by a double tracked guitar line before returning to the mesmerising riff and a gentle military drum march outro. Back in the post punk days a piece such as this might have been regarded with distain. Years later it sounds simply mesmerising.
But the real key to the success of this album is the attention that has been paid to the sequencing with the result that not only do you get a feel for every aspect of Randy's work, but there's nice flow to all the material that almost convinces you that this that at any stage of his career he might well have leapt into a sharper focused direction as suggested by the hard edged jazzy 'Suntonics'. With its measured synth lines and angular guitar its a intuitive step in the Jazz Rock direction of Weather Report, while 'His Love' is a return to the psychedelic whimsy that someone like Steve Hillage and Gong dined out on for a good few years.
The album is in fact far broader based than just a post psychedelic meander, taking in some accomplished acoustic blues on four tracks of which 'Wagon Of Wood' is an inspiring train time blues while the delicate 'French Apartment' evokes echoes of John Fahey and offers an insight into Randy's pre Spirit blues roots.
Above all, this is an album of shifting moods, subtle tonal textures - as evidenced by what sounds like a lap steel intro to the medit ative live outing 'Soldier' - and a warm vocal style. Unlike many of his contemporaries Randy California understood the core value of strong melodies and poetic lyrics as well as sometimes searching for cosmic inspiration.
Long time fans will revel in echo reverb psychedelic maelstrom of the suitable titled 'Jam Free' which makes good use of synths, echo reverb, a fuzz guitar and gnawing riffs. The distant echoey voice is heavily reminiscent of early Spirit and in many respects the song is a return to Randy's eclectic mix of yore. There's even room for the Byrds style six string sound on 'My Friend' from 'Potatoland' and the all too brief pastoral feel and beautiful vocals of 'You Know'.
On 'Victim of Society' he announces 'You people are too stoned' and launches into the kind of edgy piece that is heavily reminiscent of Love's Arthur Lee (another Hendrix disciple) and by the time of 'the late 70's new song 'Zandu' he's back into a the kind of post Hendrix, guitar led groove that is probably much more relevant now than back in the late 70's.
If you want a real intro to Spirit then go and buy the first four albums, but if you are interested in the ongoing core creative work of Randy California then this is a must.
*****
Review by Pete Feenstra
---
| | |
| --- | --- |
| | Print this page in printer-friendly format |
| | Tell a friend about this page |