SPIDER ROCKETS Spider Rockets (2009)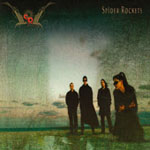 New Jersey based hard rock band Spider Rockets decided to take a different tack recording their eponymous third album. Now you might have your own views on whether albums should be a result of coming together in a studio or whether it's 'cheating' by carefully stitching together individual performances, but there's no denying the latter approach has served to craft this album.
The band, formed in 1995, have come up with a wonderful punchy commercial garage rock sound - the sort you might hear from an Alice Cooper backing band - in other words, plenty of balls, tasty licks from guitarist Johnny Nap and a rock solid rhythm section in Bones Hackett (bass) and Dan Prestup (drums).
And the songs are pretty good too. Hard hitting but with a nicely commercial 'edge'. Firmly in the Lita Ford school of rock class. Which brings me to vocalist Helena Cos. Because the tunes are calling out for some paint stripping raunchy female vocals.
Unfortunately, Helena doesn't deliver. Whether that's the recording process, a deliberate ploy, or simply Helena's range I don't know. But her vocal style sounds far more suited to the current vogue of quirky singer songwriters. For me, at least it just doesn't sit comfortably with band's overall sound. Which is a shame, because Spider Rockets could have been so much more.
***
Review by Pete Whalley
---
| | |
| --- | --- |
| | Print this page in printer-friendly format |
| | Tell a friend about this page |