Just witnessed your best live gig?.. send us a review!
SIMPLE MINDS
Manchester MEN, 3 December 2009
Photos by Lee Millward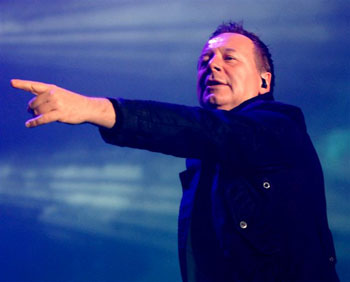 Photo: Lee Millward
The last time I saw Simple Minds it was a rather intimate showcase gig in London's West End launching "Black On White 050505" in 2005. Since then the band have consolidated their renaissance with several tours and the latest album 'Graffiti Soul'.

If Simple Minds "returned" in 2005 on the back of a general eighties revival, it is fair to say they have as much right to a revival as anyone of that era. Cautiously putting toe in deeper water they were welcomed again by loyal fans and by a wider public who reinvestigated a rich if sometimes patchy back catalogue.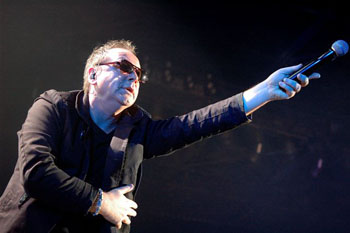 Photo: Lee Millward
The band's most recent outing in the summer - the extended 30th Anniversary Tour - was, by its nature, built around "the hits". The 'Graffiti Soul' tour offered the prospect of an excellent new album played live.

Strange it was, then, that the band only chose to feature three songs from their latest opus including 'Stars Will Lead The Way' and 'Moscow Underground'. Even more bizarre was the final encore, the splendid 'Rockets' which seemed like a hurried and belated gesture. Too little, too late.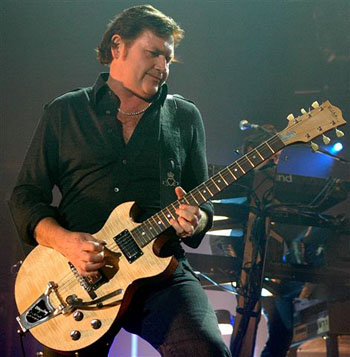 Photo: Lee Millward
In between a strong opener 'Sanctify Yourself' the setlist seemed to be all over the place, and any chance of tension building through clever pacing was scuppered by a mid-set trawl of more obscure back catalogue punctuated by "the hits".
They seemed more intent on playing "songs which they haven't played live for 28 years" than promoting the new product. Good for the in concert USB stick recording, no doubt, and a promise to play at least two different songs nightly reinforces this view.

I am not sure whether the average SM fan simply goes home a happy punter after hearing "the hits" and whether deeper catalogue has any wider impact. Although when the band miss out obvious material like 'Belfast Child' even the hardcore are surprised. No doubt that track will turn up on a USB stick recording near you somewhere in the near future.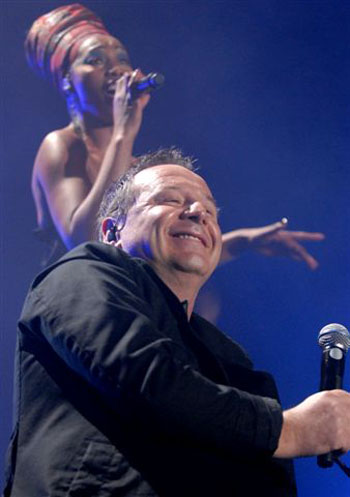 Photo: Lee Millward
For the fan and casual listener who has heard 'Graffiti Soul' and expected to hear the album in all its live glory, a bigger disappointment. The band could have easily played the whole of the new album (it contains no filler) as the focal point.
It's almost as if the band lacked the chutzpah to play an album which is generally regarded as a stronger offering than its predecessor and arguably one of their better offerings per se. Even Jim Kerr calls it "the latest and greatest" Simple Minds album. So why didn't we hear it properly?

Instead, they relied on "the hits", a homage to Kraftwerk when they were joined by support act OMD for the first encore, and gave the impression of a band too locked in its eighties comfort zone and maybe too close at times to becoming eighties cabaret. The band have come a long way from that small gutsy showcase in London, and I am sure it shouldn't end up like this four years later.

Setlist: 1. Theme For Great Cities 2. Sanctify Yourself 3. Stars Will Lead The Way 4. On The Waterfront 5. Book Of Brilliant Things 6. All The Things She Said 7. See The Lights 8. Moscow Underground 9. Real Life 10. Sons And Fascination 11. In Trance As Mission 12. Someone Somewhere In Summertime 13. Somebody Up There Likes You 14. Once Upon A Time 15. One Step Closer 16. Don't You Forget About Me 17. Promised You A Miracle 18. Glittering Prize 19. Let It All Come Down 20. New Gold Dream 21. Neon Lights 22. Alive And Kicking 23. Chelsea Girl 24. Rockets

Review by David Randall
Photos by Lee Millward
---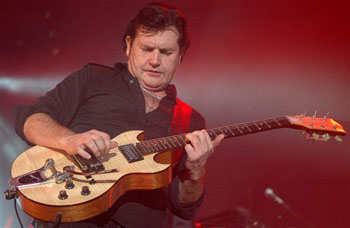 ---