SHORTINO Chasing My Dream Metal Heaven (2009)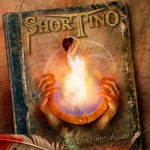 Former Rough Cutt and Quiet Riot vocalist Paul Shortino makes a welcome return. He was last seen working with JK Northrup on the rather good 'Afterlife' album released through the much missed MTM label. There was an attempted Rough Cutt reunion in 2002 but this never materialized.
This time around he has hooked-up with producer/multi-instrumentalist Michael Voss (Demon Drive/ Silver/ Casanova/ MSG) and the backing band features members of Mad Max and Jaded Heart.
With Mr Voss at the helm you know the sound will be spot on, the drums/percussion will be hard and heavy and as he handles most of the guitar playing on here it will be riff-tastic. This is one of the heaviest albums Paul Shortino has recorded in ages, grab a listen to the pounding melodic metal of 'Side FX' (the lyric covers bipolar disorder not your usual rock lyric fare), 'Nocturnal' and 'To The Cross', the latter harking back to Rough Cutt's sound. In fact there is only one really slow number, 'Promises' which leads in with some piano and allows Shortino to show his slow, bluesy side of singing.
Very strong album helped by the fact Michael Voss is onboard to add gloss to the production and sound. Good to hear Paul Shortino is still in fine voice as his slightly gravelly delivery makes such a change from most hard rock vocalists. Now how about some tour dates please?
****
Review by Jason Ritchie
10 Questions
---
| | |
| --- | --- |
| | Print this page in printer-friendly format |
| | Tell a friend about this page |