SHINEDOWN The Sound Of Madness Atlantic 7567-89894-5 (2009)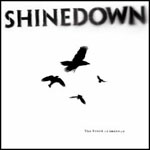 It might be easy to dismiss Shinedown as the new Nickelback on the block but in truth they've been going almost as long and their debut album in 2003 went platinum in the US where they've had their greatest success.
'The Sound Of Madness' was released over the pond in June 2008 and - produced by Rob Cavallo(Green Day) - is a consistent example of the corporate stadia rock that Nickelback (and Green Day) do so well. But others come to mind too, such as Gavin Rossdale and Bush, Seether, and Alter Bridge.
Brent Smith's vocals are not dissimilar to Rossdale and the whole approach is perhaps a little too close to Chad and the boys for the UK public to be completely won over. I mean, Nickelback draw praise and derision in almost equal measures, only Shinedown's lack of pretentiousness and cliche could see them through. Unfortunately 'The Sound of Madness' does lack any originality.
There's a satisfying if predictable mix of rousing post-Grunge rockers ('Devour', 'Cry For Help', 'Sin With A Grin', 'Cyanide Sweet Tooth Suicide' ), the mid-tempo widescreen ('Second Chance', 'The Crow & The Butterfly" and 'What A Shame') and the radio-friendly ('If You Only Knew', 'Breaking Inside' and 'Call Me').
File under Nickelback. Nearly.
****
Review by David Randall
---
| | |
| --- | --- |
| | Print this page in printer-friendly format |
| | Tell a friend about this page |