SHADOWS MIGNON Midnight Sky Masquerade ProgRock Records (2009)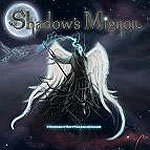 The main driving force behind this band is Henning Pauly (Frameshift/Chain) and his aim with this band is to produce some classic 80's sounding metal. On this album he has enlisted vocalist Juan Roos and on keyboards Stephen Kernbach with Pauly playing everything else!
From the titles alone you could have a good guess to the music on here - 'A Dragon Shall Come' (here they give Manowar a good run for their money) and 'All Hail The Warrior' (slightly generic in sound) being prime examples. But they do throw you on a couple of songs, namely 'Goodnight Boston' which sounds like an acoustic ballad by Poison, I kid you not and 'I Will Never Stop', another ballad almost AOR in sound. Both are fine songs but do seem slightly out of place from all the metal music that surrounds them. 'No Metal Son Of Mine' is great fun especially in the lyrics which see a father bemoaning the fact his son doesn't wear any black or share the father's love of heavy metal music. The epic 'Kingdom Of the Battle Gods' with its fast and slow passages again recalls Manowar in their prime and makes for a great listen.
Henning Pauly has done what he set out to do namely create a set of songs steeped in that classic 80's metal sound and lovers of Manowar, HammerFall and Blind Guardian will find much to enjoy on here.
****
Review by Jason Ritchie
---
| | |
| --- | --- |
| | Print this page in printer-friendly format |
| | Tell a friend about this page |