SAVOY BROWN Boogie Brothers/Wire Fire BGO (2009)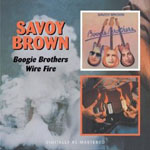 BGO Records continue their Savoy Brown "two-fer" reissues with 1974's "Boogie Brothers" and the following year's "Wire Fire" together on a value for money two-disc package.
Only mainstay Kim Simmonds remained from previous album "Jack The Toad", with vocalist Miller Anderson and the rhythm section of Jim Leverton and Eric Dillon all joining from Hemlock who had recently released a self-titled debut album on Deram. In addition, former Chicken Shack main man Stan Webb was also on board. Originally planning to call themselves the Boogie Brothers, the reputation of the Savoy Brown name eventually saw them stick with that.
Simmonds wrote the powerful funk-rock opener 'Highway Blues' and the laidback instrumental album closer 'Threegy Blues'. Webb's sole writing contribution was the brooding blues of 'My Love's Lying Down', while there's also a cover of Bo Diddley's 'You Don't Love Me'.
The remaining five tracks were all written and sung by Miller Anderson. The superb acoustic ballad 'Always The Same' features just Anderson (vocal / acoustic guitar) and Simmonds (steel guitar), while the Lynyrd Skynyrd-esque 'Everybody Loves A Drinking Man' is notable for some sizzling Simmonds slide guitar playing.
Anderson's other cuts are the groovy 'Me And The Preacher' (also featuring some fine Simmonds slide guitar) and the more formulaic blues-rock anthems 'Rock 'N' Roll Star' and 'Boogie Brothers'. The album performed well in the US, but was not a success in the UK and was to be the last Savoy Brown album to be issued in the UK by Decca. ****
By the time of 1975's "Wire Fire" the band line-up had completely changed again! Rejoining Simmonds from an earlier line-up were Paul Raymond (keyboards, vocal and second guitar) and drummer Dave Bidwell - Tommy Farnell also played drums on some of the tracks after Bidwell left. On bass duties was new boy Andy Rae.
Simmonds and Raymond co-wrote all but one of the tracks, the exception being the Simmonds-penned 'Born Into Pain'. The closing two tracks aside, the album has a lighter feel overall than "Boogie Brothers" - bordering on mainstream pop/rock in places. It's not without merit but would have to be regarded as one of their weakest albums. It didn't gain a UK release at the time, only appearing in Germany and America. ***
This remastered BGO set comes complete with a 12-page booklet containing original artwork, credits and extensive notes by David Wells.
****
Review by Jim Henderson
Jim Henderson presents "Power Pop" on Get Ready to ROCK! Radio, Thursday 21:00, Sunday 14:00
---
| | |
| --- | --- |
| | Print this page in printer-friendly format |
| | Tell a friend about this page |