SAGA The Human Condition Inside Out (2009)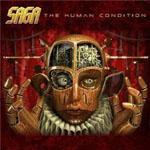 This is the first Saga album to feature new vocalist Rob Moratti, previously with the rather good melodic rockers Final Frontier, following Michael Sadler's amicable depature last year. Interestingly Moratti had a very high pitched vocal at times on the Final Frontier albums which has been toned down big time on here and you get to hear another side of his impressive vocal talents.
Existing Saga fans may take some time to adjust to this change and it took me a few spins to start to really get into the music. The singer may have changed but the music remains familiar with guitarist Ian Crichton still plying his staccato riffs plus he lays down some of the heaviest riffs he has done for some time, whilst the keyboards/synths are still very much a big part of the band's overall sound.
The title track starts the album off and it is a mainly instrumental number with some vocals dotted in here and there. Not a bad number but personally I would have started off with a band like 'Step Inside' or the superb 'Avalon', which highlights to listeners the richness of Moratti's vocals. The latter is a very accessible song and could win the band a few new fans.
An undoubted early highlight is the atmospheric 'Hands Of Time', featuring plenty of synths and intricate musical arrangements, a definite Saga classic. 'Now Is Now' features some very heavy riffing and the chorus sounds uncannily like Toto's 'Isolation'! That said it is another cracking song and stands up easily to the band's past music. Only 'Crown Of Thorns' lets the album down as it sounds out of place with the other music on this album.
Interestingly the band bio says they have gone more prog rock on this album which is true to a point but I'd add this is one of the band's most accessible albums to date and has a big emphasis on melody. Do give this album a chance if you're an existing fan as Saga have replaced Michael Sadler with an equally capable vocalist in Rob Moratti. A good move by the band, who have produced a set of very accessible tunes rather than trying to be too experimental on the first album with a new vocalist.
****
Review by Jason Ritchie
---
| | |
| --- | --- |
| | Print this page in printer-friendly format |
| | Tell a friend about this page |