ROADHOUSE Sea Of Souls Bluesmatters BRMCD20082 (2009)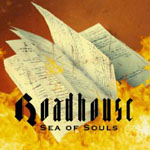 Roadhouse is something of a unique band. A fiercely independent rock band with 7 solid albums behind them and a prodigious songwriter in the shape of founder member, guitarist Gary Boner, this South London based outfit continue to churn out some of the most impressive Southern rock heard this side of the pond.
Working from a sold rock blues foundation, it is Boner's Americana drenched imagery that gives the band their USP and eases them on the up escalator. And if 'Sea of Souls' does in fact restate many of Boner's previous themes of hope, love, despair, angst and redemption, they are all delivered via immensely enjoyable trips along the 'Devils Highway' which may or may not be inhabited by either a 'Voodoo Queen' or her counterpart the 'Preacher Man'.
Indeed the songs paint a picture of surviving life's never ending rocky road through the triumph of the human spirit over the lyrically elaborated aspects of the devil and despair. And it's this life force that comes through loud and clear in the songs.
Given the fact Gary Boner's songs are that much better than anything else on offer at the moment you are indeed carried along by his lyrics as much as the searing solo's which both he and fellow guitarist Warren Gwilym fire off at the drop of a hat.
So while The Eagles may offer the 'dark desert highway', Roadhouse deliver similar imagery laden narratives but with a twist.
'Sea of Souls' is also a well thought out, well produced rock album that when required subtly papers over the cracks of Boner's passionate latter day Dylan croak. He doesn't so much rely on the triumvirate of Mandy G, Suzie D and Kelly Marie to reach the necessary vocal peaks as use the resulting harmonies to bring an extra dimension to his lyrics.
And as the band's name suggests Roadhouse are a seriously road tested outfit with Bill Hobley & Roger Hunt providing a rock solid foundation for the twin guitar explorations. The southern rock of Lynyrd Skynyrd, the early vocal styling of Jefferson Airplane and the introspective imagery of Neil Young are all to be found on songs like 'Lights on the Water', while the quite outstanding plea 'The Answer' is one of Boner's very best efforts, being a slow building rock ballad with nice guitar touches, a lovely vocal combination and a cute sense of dynamics.
The latter is also evident on the introductory post Bo Diddley drum pattern and girlie vocals on the splendid 'Voodoo Dance' and there's even a Steeleye Span style folksy style intro to 'Dark River' which is ultimately subsumed by a characteristic Roadhouse riff. And it is the latter guitar break that offers a key to the whole project.
After seventeen years and eight or so albums, Roadhouse do indeed have their own trademark sound. In Gary Boner they have a songwriter of rare talent and emotional feel while in Mandy G they have a Marlena Dietrich meets Lulu who can effortlessly shift from a sultry growl to a scream as she belts out her lines as on 'House of the Rising Sun' and the riff driven 'Tumbling Down'.
By the time of a reprise of one of their career highlights the southern rock influenced 'Preacher Man' from the 'Dark Ride' CD, you feel like you've been through a rocked up arrangement of a Raymond Chandler novel. And let's face it any album full of songs that can evoke such imagery on the back of some searing guitar work has got to be worth a second listen. Fiery rootsy rock never sounded so good.
****
Review by Pete Feenstra
---
| | |
| --- | --- |
| | Print this page in printer-friendly format |
| | Tell a friend about this page |