RETURN TO FOREVER Returns Eagle Records EAGCD394 (2009)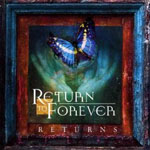 Return To Forever was one of the first jazz rock supergroups who - along with Weather Report and Mahavishnu - defined the fusion genre in the early seventies. In 2008 they reformed for their first tour in 25 years and this 2-CD captures them in Florida, Boston and Montreux.
It's over 30 years since the band's last studio effort but the passage of time hasn't dimmed their flame and this collection of reworked band classics is played with an intensity that belies the band's collective age.
RTF mixed jazz, funk and rock freely and when in full flight, such as 'Vulcan Worlds', the results are spectacular. Al Di Meola, a forefather of shred guitar in the early seventies (he was 19 when he joined the band in 1974), has pursued a more mellow, acoustic path since but unleashed here it's almost like he's regaining - and reaffirming - his rock credentials.
Disc 1 includes a nice sequence that showcases some of Di Meola's solo work, a medley including 'Children's Song' and 'Spain' from the band's second album.
With a rhythm section of Stanley Clarke and Lenny White, RTF are as tight as they are melodic with Chick Corea's synth fills and runs a highlight as well. This never develops into muzak.
Clarke trademark slap bass is one aspect that actually dates the music (it was novel at the time), although he also features double bass extensively. The interplay and in particular the synth/guitar harmonies remain a delight throughout.
Naturally, the focus is on the band's fifth - and biggest selling - album 'Romantic Warrior' and it's a pity that they ignore the excellent 'Hymn To The Seventh Galaxy' (except for the title track) which broke the band to a wider rock audience - but then Di Meola wasn't in that line-up.
Two discs, although good value, ramble a bit and the second disc should be viewed with caution as it contains extended solos including a seven-minute (and I mean seven minute) solo from drummer White. This is seventies musical brinkmanship that demands patience or a damn good spliff.
The whole is rounded off with the bonus '500 Miles High' (originally on the band's second album) and - another nice touch - ace producer George Martin presenting the band with a Lifetime Achievement award, first broadcast on BBC Radio 2, and reprising 'Romantic Warrior'.
Jazz-fusion at its finest. A DVD is scheduled for later in the year and will - I am sure - make for compulsive viewing.
***½
Review by David Randall
---
| | |
| --- | --- |
| | Print this page in printer-friendly format |
| | Tell a friend about this page |