RACEY Smash And Grab Cherry Red (2009)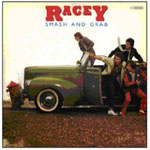 An honourable mention for what is effectively bubblegum pop. This group effectively did a smash a grab, with several top 20 hit singles in the late 70s and early 80s, yet vanished after one album that failed to chart. Although the band wrote many songs (with vocalist / pianist Richard Gower writing a lot of strong material), it wasn't until they were signed by Mickie Most's RAK hit making machine (think Stock Aitkin Waterman 10 years earlier) and a pairing with the Chinn/Chapman song writing pair that anything happened. Even back in 1979, it was a retro feel, with some songs nodding back at Grease, and others like 'There's A Party Going On' with its funky bass line nodding at the same kind of soul that influenced disco. That aside, many reading this would have grown up with the party pop of 'Some Girls' and 'Lay Your Love On Me'.
There's a worthy mention for 'Kitty', a track reworked as 'Mickey' by Toni Basil a few years later.
This isn't all cheese you know; aside the sweet childhood memories, there are some good songs, and some decent musical moments: 'Rah State Way' is good soul pop, with a light rock touch and a good guitar solo.
After all the (poor) compilations, this is the first time the original album has made CD in its entirety, with enough bonus tracks to fill a second disc.
I was 9 when this was originally released and I still like it. I don't care if it is unashamedly pop.
***½
Review by Joe Geesin
---
| | |
| --- | --- |
| | Print this page in printer-friendly format |
| | Tell a friend about this page |