QUEENSRYCHE American Soldier Rhino (2009)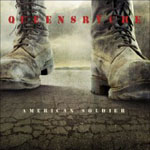 Following on from their last album, the hit and miss follow-up to 'Operation Mindchrime', the band tackle another concept this time based on the American soldier. Singer Geoff Tate interviewed veterans (including his father) from past conflicts in Korea, Vietnam and Somalia. Their interviews form the backbone on many of the songs on here which turns the album into an honest and fitting tribute to the American solider. Only one downside to this is that a couple of songs are very narrative led so could wear thin with some listeners.
Geoff Tate is in fine vocal form and as ever the band aren't afraid to try a few new musical tricks including the funky vibe in the opening song 'Sliver', complete with a bit of rapping. They go back to the modern rock sound of their 'tribe' album on 'The Killer', a very strong song both musically and lyrically. 'Middle Of Hell' takes some time to kick in and is the album's weakest song but 'Man Down', another hard riffing song keeps the album ticking along nicely.
'20,000 Feet' is a very impressive song from the point of view of a pilot/bomber and the fact they feel detached from the death and mayhem they cause by their bombing. 'Home Again' sees the band in ballad mode and this one also has Geoff Tate's daughter Emily singing the part of a soldier's daughter. Being honest her voice isn't the greatest but then it does add more to the authenticity of the song overall.
You may read reviews knocking this album saying its not as good as 'Operation Mindchrime' or 'Empire', which in fairness are albums the band would be hard pushed to better but this new album is certainly their best overall set of songs since 'Empire'. It clearly is a labour of love and something Geoff Tate feels passionately about and this comes through on the music and lyrics. If he wanted to achieve a fitting tribute to the ordinary American soldier, without glorifying war or taking an avid anti-war stance, then this album is job done. If you like the band's music it's simple, buy it!
****
Review by Jason Ritchie
---
| | |
| --- | --- |
| | Print this page in printer-friendly format |
| | Tell a friend about this page |