PUGWASH Giddy (2009)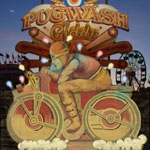 For those of us of a certain generation, and that's likely to be high proportion of GRTR! readers, there's only one Pugwash. Captain Horatio Pugwash - the 1950s comic strip / BBC cartoon hero who sailed the seven seas in his ship The Black Pig, (and the subject of an atrocious urban myth (ed)).
But this Pugwash is Dublin songwriter Thomas Walsh and pals, and Giddy is a retrospective look at the Pugwash's finest material to date. Their debut album Almond Tea was released in 1999, followed by Almanac in 2002, and Jollity (2005). And now, that back catalogue is plundered for treasure in the form of the 13 tracks that make up Giddy.
In a way, the timing of the release is ironic. Because the Pugwash band of pop is reminiscent of the sixties pop of The Beatles, Beach Boys, XTC and The Kinks. And the Pugwash sound is pervaded throughout with echoes of Lennon and McCartney. It mirrors the Lennon/McCartney school of songwriting and it makes Noel Gallagher look like an amateur. Perhaps with the exception of Two Wrongs, which actually sounds like Pugwash aping Oasis aping The Beatles.
Which is ironic because with the re-release of The Beatles catalogue it's impossible to turn the page of a newspaper without stumbling across an article extolling the virtues of the Fab Four.
If you want to listen to The Beatles, there's never been a better time to explore their back catalogue (albeit the pricing is somewhat extortionate). On the other hand if you're looking for something fresh of the same ilk, look no further.
***½
Review by Pete Whalley
---
| | |
| --- | --- |
| | Print this page in printer-friendly format |
| | Tell a friend about this page |