Lengthy instrumental passages...a sitar...it must be prog!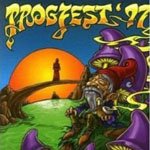 1997 and a two day Prog festival in Los Angeles, California, of which you get the highlights here. No BIG names but some good stuff anyway.
The set kicks off with 4 tracks by The John Wetton Band, the bassist/vocalist taking a break from Asia et al going back to his prog roots. The music is dynamic, a step on from Heep/Crimson style prog, with the strong commercial edge of Asia, but without that level of AOR. You get some funky bass lines and guitar noodling, and some more melodic segments too, with keyboards making up the four-piece.
Fans will recognise 'In The Dead Of Night' and 'Soul Survivor'. 'Rendevous 602' is more progressive, one for the Yes fan. Their four songs are completed by 'Battlelines'.
Less accessible is Le Orme, a four piece fronted here initially by a sitar before the singer moves to bass guitar. There are some ELP like moments, with long instrumental passages that just don't grip in the same way Karn Evil 9 would do. Two longer tracks that I'm sure some prog fans will love.
More modern prog comes initially in the way of 'Sirens' by Arena, a lengthy guitar led prog metal workout. Nice solos.
'Humanizzimo' by The Flower Kings runs at nearly 15 minutes, and with flute and acoustic guitar is more prog folk.
Spock's Beard are another more modern prog band many may know, fronted by Neal Morse. Mixing hard rock with keyboards and intricate moments, they are rightly popular. .
In similar fashion are the 3 piece Big Elf and folky female fronged Sinkadus.
Running at nearly 2 hours, there's enough prog for everyone, but some harder to digest than others. Some interesting moments but I totally understand if you'd rather have a DVD dedicated to your own personal favourite.
***
Review by Joe Geesin