PETE YORN & SCARLETT JOHANSSON Break Up (2009)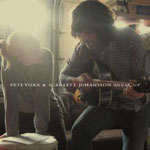 In 2006, singer songwriter Pete Yorn had a dream. When he woke, it was - fully formed. The idea, that is, for an album of duets charting the beginning, middle and end of a relationship. He immediately got in touch with Scarlett Johansson.
Many wouldn't, but Scarlett swallowed it. Damn. How I wish I had dreams like that.
And what a brilliant ruse. Write an album's worth of material. Contact a drop dead gorgeous film star. Tell her it was written just for her. And ask her over to see the size of your mixing board.
OK, Serge Gainsbourg pulled it off in the Sixties when he collaborated with Brigitte Bardot. And of course, he had a dabble with Jane Birkin as well. But then Serge was renowned for his fancy for 'top totty'.
I guess the reason we don't seen more albums like this is that, for a kick off, the lady has to be able to sing. But that's less of a problem these days. A bit of electronic jiggery pokery can make even Victoria Beckham sound in key.
And, of course, Johansson has since gone on to release her debut album Anywhere I Lay My Head. While Break Up has laid under wraps. Until now.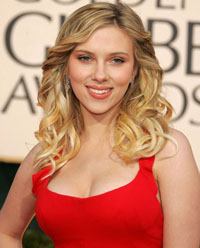 And the fact is, that even if Scarlett didn't feature, Break Up is a pretty decent album - very much in the Cherry Ghost modern day singer songwriter style. Produced by Sunny Levine, it features contributions form Robert Francis on guitar, Giuseppe Patane on bass, Amir Yaghmai on violin, and Max Goldblatt on banjo, synth bass and backing vocals.
An adulterated view of Scarlett Johanssen
that has nothing to do with this album
Johansson's mainly plays second fiddle to Yorn in the vocal lines. But where she does contribute she has a pleasing Amy Winehouse style (check out I Don't Know What To Do). The lead single and opening track Realtor is a jaunty Paul Simon -esque track, while the equally strong Wear And Tear throws a hint of calypso into the mix (a recurring subtext).
Running out at just 30 minutes, the album is too short. And for me, it's a Pete Yorn album, featuring Scarlett Johansson. I'd like to have heard her from Johansson. But overall, it's a very pleasant surprise.
***½
Review by Pete Whalley
---
| | |
| --- | --- |
| | Print this page in printer-friendly format |
| | Tell a friend about this page |