PAULUSMA iRecord Munich Records (2009)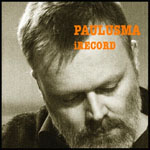 Jelle Paulusma was the vocalist / guitarist in Dutch power pop band Daryll-Ann who are best known in the UK for their 1995 album "Seaborne West". Jelle is now exploring his own musical path and "iRecord", his second solo album, is an impressive and varied collection of original songs.
The album opens with the melodic pop-psych blast 'Ready To Go' which benefits from Byrds-esque guitar and ploughs a similar musical furrow to some of the output of Liverpool band Shack - it's followed by the swirling dream-like 'Satisfactory' which features guest vocals by Iain Matthews (Fairport Convention, Matthews Southern Comfort).
'Lotta Love' has a late 60's festival vibe and feels like a modern day 'Renaissance Fair' or 'Woodstock'. The album production has a contemporary feel, but nonetheless Jelle's influences (notably The Byrds, The Grateful Dead, Jefferson Airplane, Love) shine through on tracks like this.
After a jaunty opening trio, 'California Spirit' is deceptively mellow before it bursts into life with some stunning guitar work. Another strong track, 'Ridin' The True Companion', precedes the sombre 'Ship Of Fools'.
'(I Watched Your) Shadow Dancing' is a thing of beauty, 'TJ On A Spree' is kooky but loveable, while the lazy and lilting 'Saturday Afternoon' is the loveliest track here and includes some fine slide guitar by Len Lucieer.
"iRecord" climaxes with 'Stories Of Love' (which evokes memories of the Twin Peaks theme!) and 'Moonshine Waltz' where Jelle's deep vocal ably demonstrates the warmth that the second half of this album exudes.
On his website (www.jpaulusma.com), Jelle talks about wanting to take his audience on a trip and he certainly achieves that with one of the most diverse albums I've heard for some time. The range of styles make it very hard to classify, but "iRecord" is certainly a real grower with many of the songs really getting under your skin after a few listens.
****
Review by Jim Henderson
Jim Henderson presents "Power Pop" on Get Ready to ROCK! Radio, Thursday 21:00, Sunday 14:00
---
| | |
| --- | --- |
| | Print this page in printer-friendly format |
| | Tell a friend about this page |