Otis tribute light on detail...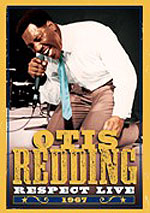 A short DVD running out at only 48 minutes claims to bring you the classic soul man from 1967. And it does - sort of.
Grainy black and white footage, which hasn't aged too well captures the man on the 1966 Stax Volt European tour that brought America's r7b superstars across the pond for the first time. That tour included Booker T - a superb rendition of Green Onions is included here - as are Something Is Wrong, Hold On I'm Coming by Sam & Dave.
So you only get five Otis tracks - Shake, My Girl, Satisfaction, and Try A little Tenderness. Sitting On The Dock Of The Bay is included, but only as a soundtrack to a stills slideshow.
Mostly a frenetic affair, it's an interesting piece of pop history, but it's not something you'd want to watch regularly and there is probably better performances captured elsewhere. Such as on Otis' electrifying 1967 Monterey Pop performance, by which time the summer of love was in full bloom.
Again, sadly only five tracks - Shake, Respect, I've Been Loving You, Satisfaction and Try A Little Tenderness, But it was enough to propel him to stardom and cement his place in pop history.
By this time a fully polished pro, the coloured footage captures the man at the height of his powers. For serious Otis fans and historians only.
***
Review by Pete Whalley