OMAR KENT DYKES Big Town Playboy RUF Ruf 1142 (2009)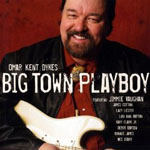 Just as the elder statesmen of rock fraternity seek refuge in the concept of Heritage Rock by going back to reinterpreting or re-/recording their former glories, so it seems the blues fraternity is doing the same.
In the case of Omar Kent Dykes it's a case of ditching new material and bringing his voice to bear on some classic blues material. 'Big Town Playboy' works well in parts. After all Omar still has one of the most rich and expressive baritone blues voices in the business and he actually hails from McComb, Mississippi and has enough biographical credibility to fill a blues tome. But you can't help but wonder whatever happened to the bone crushing rock/blues singer who used to conjure up biting lyrics to match his fiery performances on such self penned gems as 'Hard Times in the Land of Plenty', or the evocative autobiographical lyrics of 'Muddy Springs Road'. the survivalist imagery of 'Black Bottom', and the low down swamp rock of 'Pushin Fire'.
He also used to apply his trademark growl to a post Bo Diddley boogie beat. But those days were already changing ten years ago when he cut the all covers album 'Swingland' which radically shifted his role as a creative analytical vocalist/song writer to that of an (impressive) interpreter of song.
Probably buoyed by the commercial success of last year's 'Jimmy Reed Highway' with Jimmy Vaughan ,this all star blues effort which gathers together such wonderful veterans as Lazy Lester and James Cotton and throws in the mix the fiery Lou Ann Barton who adds welcome bluster to the album in duet mode with Omar on 'Think'.
For the most part Omar himself seems happy to take a to a laid back role, only occasionally eschewing the torpor by utilising his coarsest Wolf growl on both JL Hooker's 'No More Doggin' complete with tub thumping bass from Ronnie James. There's also an understated but measured version of 'Man Down There', but even here the song is taken mid tempo, losing its sense of R&B vibrancy. But no matter, this is Omar Kent Dykes in his role as a down to the wire blues man and there no argument that this album does what it says on the tin. However producer /guitarist Derek O'Brien might have paid more attention to the sequencing which finds too many similar songs closely linked together. This is particularly so on a 3 track sequence starting with Reed's 'Close Together' and comprising the frankly forgettable 'Dream Girl' and the languid Ivory Joe Hunter cover 'Since I Met You Baby'.
Omar digs deep for his blues but somehow loses sight of the bigger picture. In short, Omar Dykes remains a magnificent vocalist but 'Big Town Playboy' is an opportunity lost. At best the album manages to successfully integrate an interesting array of blues aficionados, but at worst you could view this CD as a thinly disguised effort in overcoming a paucity of new material and fresh ideas. You pays your money and you takes your choice. Yes, this is the blues but somebody forgot to light the fuse.
***
Review by Pete Feenstra
---
| | |
| --- | --- |
| | Print this page in printer-friendly format |
| | Tell a friend about this page |