NERINA PALLOT The Graduate (2009)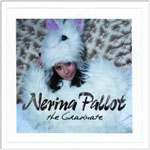 Nerina Pallot made a name for herslef with her debut album and managed to garner some rave reviews in the crowded field of singer/songwriters.
For her new album, which she is self-releasing she has gone down a more pop route and used outside writers on a couple of songs.
A brave move that could well alienate some of her original fans although with songs like the ultra poppy 'I Don't Want To Go Out' (one of the co-written songs) and 'When Did I Become Such A Bitch' she will open up a whole new audience to her music.
Those who enjoyed her more stripped back sound still have songs like the wonderful 'It Was Me' to savour and enjoy.
Nerina Pallot has a wonderful voice (not a million miles away from Kate Bush at times) that suits either the more pop/dance flavoured new songs and the more traditional singer/songwriter songs that she made her name with on her debut album.
It will be interesting to see how her choice of a more pop direction is received and if a success, whether her next album will see her take the leap to producing an album purely of pop/dance tunes. In the meantime enjoy this one...
****
Review by Jason Ritchie
---
| | |
| --- | --- |
| | Print this page in printer-friendly format |
| | Tell a friend about this page |
***** Out of this world | **** Pretty damn fine |
*** OK, approach with caution unless you are a fan |
** Instant bargain bin fodder | * Ugly. Just ugly
get ready to rock is a division of hotdigitsnewmedia group