NEO-PROPHET Monsters www.neoprophet.com (2008)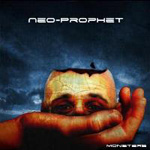 A few years back we reviewed this Belgian prog outfit's demo and they sounded promising. Now, with better recording quality and a growing confidence they unleash 'Monsters'.
Anyone who likes Fish-era Marillion will enjoy this. Influences firmly on sleeve, there is some great playing, some catchy tunes, and a quirkiness that's present in all the best prog bands.
'The Truth' rattles along nicely and has a brief Wakeman-esque keyboard interlude courtesy of Sjoerd Bruyneel whose piano figures also give appropriate gravitas to 'The Vast Machine' - another of the album's highlights. Indeed, Bruyneel's work throughout is excellent.
There is also a nice funky rock undertow that was present on the earlier demo, in short this band can rock when they want to: check 'Man Without A Name' for confirmation.
The 9 minute long mid-tempo 'Song X' has some excellent keyboard (again) and Frank Debruyne's guitar cutting through nicely.
'The New Prophet' is the magnum opus, a 20 minute 'suite' that covers all band bases.
The band don't take themselves too seriously, and any band that says the music is best enjoyed with a beer has my vote. When it's Belgian beer it can be really something special. Neo-Prophet is just that. Thirst-quenching too for any dry-mouthed prog heads.
****
Review by David Randall
---
| | |
| --- | --- |
| | Print this page in printer-friendly format |
| | Tell a friend about this page |