Just witnessed your best live gig?.. send us a review!
NELL BRYDEN Borderline London, 13 November 2009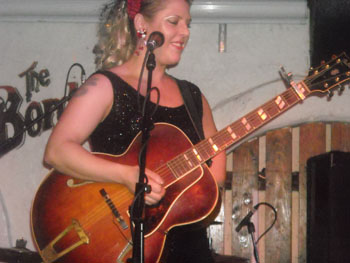 I recently saw Brooklyn Babe Nell Bryden in a stripped-down form (behave lads) whilst supporting Ben Taylor at the Shepherds Bush Hall and was mightily impressed. I was very intrigued to see her in full flight with her backing band.
I must give special mention to support act Roddy Hart & The Lonesome Fire. This Glaswegian act took a nine hour journey by car to be here today and soon won me over. Sounding like an in-tune Bob Dylan mixed with Tom Petty and a touch of fellow Jocks Travis. Some well crafted songs including one track 'My Greatest Success' which Kris Krosterfan sang backing vocals on their first CD 'Bookmarks'.They have a new release out called 'Sign Language'. You should bookmark them.
Nell Bryden is a colourful character and has a large stage presence, immediately talking to the crowd before launching into the swing of the first song 'Tonight'. 'Helen's Requiem' was a heartfelt song about Hurricane Katrina that struck New Orleans. A place where Nell's musicall heart lies.
An acoustic version of Robert Johnson's 'Hellhound On My Trail' was soulful and spine tingling. I've heard many Johnson covers by many blues greats including Peter Green, Eric Clapton and Gary Moore but never done by a female which gave this song a new lease of life.
Bringing us back to life with new single 'Not Like Loving You' she soon got us dancing with the upbeat 'What Does It Take' and a fun version of the Johnny Cash classic 'Ring Of Fire' all done in Bryden's unique style. In her red stilettos, fishnets and black sequin dress Nell was having fun jumping up and down without skipping a beat during 'Late Night Call', it was engaging.
Nell Bryden is full of life and can talk a lot, I'm sure she can make the journey home for Roddy Hart and the boys go a lot quicker with Nell chatting in the back seat, but she is interesting and funny.
I was so glad I came for a 'Second Time Around'. Whilst many couch potatoes sit at home watching the X-Factor, millions are missing out because the real talent was here at the Borderline tonight.

Set list : Tonight / Only Life I know / Helen's Requiem / Where The Pavement Ends / Meridian / Goodbye / Hellhound On My Trail /Someday / Not Like Loving You / What Does It Take / Ring Of Fire / Late Night Call / Soundtrack / Second Time Around.

Review and photo by Mark Taylor
---
---