NEKTAR Fortyfied Treacle Music TMCD 209-2D (2009)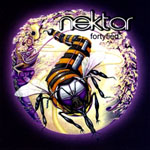 As the band's own web site informs us this double live album is effectively 'forty years remembered in fifteen songs spread over two-and-a-bit hours'. And given the 4 decades 10 album career there's plenty to choose from.
Nektar of course are originally a Welsh band who much like Man initially lived off the back of their German following before making forays into the States. And aside from occasional similar stylistic dalliances with psychedelia there the parallel ends as Nektar's elongated adventurous pieces accord more squarely to the progressive mould.
Still led by guitarist/vocalist and songwriter Roye Albrighton and featuring the original drummer Ron Howden, Nektar are now boosted by the impressive keyboards of Klaus Henatsch and bassist Peter Pichl who does a does a splendid job both underpinning some tricky time changes a well as frequently playing his bass as a front line instrument. This is particularly so on the majestic 'Mr H' (from 'Sounds Like This') and one of the album's highlights. A distant crowd can be heard showing their due appreciation.
Older fans will immediately be drawn to the core material from 'A Tab in the Ocean' which, curiously, is not played chronologically. Nektar's style was pretty much defined by that 1972 album, being full of restless stop-start melodies and fractured recurring themes that are gradually fleshed out by a mix of jammed improvisations and instrumental flourishes as the band gradually work their way toward a tension resolution.
In between there are subtle guitar solos from Albrighton who effects different tones and effortlessly shifts from Proggy workouts to funky vamps, and together with organist Klaus adds a killer riff at the head of the splendid 'Desolation Valley' (also from 'A Tab in The Ocean').
And while Roy's vocals are closer to a whisper than their previous tougher approach, there's some lovely meandering jamming here that brought the band its deserved reputation in Prog circles.
At times they may sound like a cross between Gentle Giant, Floyd and even Focus (particularly so on 'Recycled part 1') while the riffs on 'A Day in the Life of a Preacher' sound like Stray, but Nektar have covered a lot of ground in 4 decades. And while the later material features more use of the synth, it's the earthy organ sound and sumptuous bass runs that anchor much of the best material.
If there's a down side it has always been that the band take up to 20 minutes to complete one piece, ploughing their way through different mini cycles before they finally hit base. This is certainly the case on 'Recycled' an overwrought piece that true to Nektar's oeuvre has some lovely guitar led moments but takes too long to make its point.
That aside, there are many magical moments here, most notably on the best moments of 'Remember the Future part 1', the expansive groove of 'Dr Kool' and of course 'King of Twilight' with its Uriah Heep style organ lead. And while the newer material like 'The Debate' suggest a more precise direction on the back of some killer time signatures, the closing 'Man in the Moon' reverts to type with whispered vocals, some linear synth lines before meandering towards its climax.
'Fortified for the over forties' would have been a better title for a CD that is well worth purchasing and will surely be enjoyed by Prog rock, Psychedelic Space Rock and melodic rock fans alike.
****
Review by Pete Feenstra
---
| | |
| --- | --- |
| | Print this page in printer-friendly format |
| | Tell a friend about this page |