NAZARETH Reissues Salvo (2009)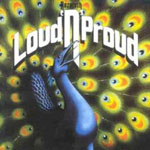 Salvo's remastering of Nazareth's back catalogue continues with these three classic early 70s hard rock albums. The Scottish four piece mixed very hard rock and blues, guitarist Manny Chalrton playing heavy riffs and a mean slide, and Dan McCafferty's distinctive vocals had a rough gravelly edge only matched by Brian Johnson.
1973's Loud'n'Proud was recorded mere months after the breakthrough Razamanaz (both were produced by Deep Purple's Roger Glover), yet the band still found time to play Top Of The Pops, tour, and record sessions at the BBC. Opener 'Go Down Fighting' is upbeat and uptempo, 'Teenage Nervous Breakdown' is a classic, and there is also an outstanding cover of Joni Mitchell's 'This Flight Tonight'. This cover was so successful that Mitchell would, on her next tour, refer to it as a Nazareth song. As a bonus, there are four BBC Session tracks, which include great live takes on 'Razamanaz' and 'Bad Bad Boy'. ****½
Rampant, released in 1974, was Glover's last as producer with Nazareth. It is a touch lighter, but still features great moments. Opener 'Silver Dollar Forger' features some good fuzz bass from Pete Agnew, and the higher paced 'Shanghai'd In Shanghai' a live favourite. There is also a strong cover of 'Shapes Of Things'. Again loads of bonus tracks, a single b-side and 7 live BBC tracks. The album also features Deep Purple's Jon Lord. ****
1975 and Hair Of The Dog, the band's biggest seller and Manny Charlton's first as producer. The title track, once lamely covered by Guns'n'Roses, with its distinctive cow bell, riff and chorus of 'Now You're Messing With A Son Of A Bitch', is a real rock classic and still played live today. 'Beggar's Day' also stands out. As usual, a cover and a ballad, and although Nazareth were about the 37th band to cover 'Love Hurts', it became the most successful and the template all later versions would follow. A world-wide single, it was added to the US LP, and is a bonus here, as are several other singles and BBC live sessions. *****
All three CDs come in lovely digipaks, full booklets with sleevenotes and rare pictures.
Fantastic packaging, three essential albums.
Review by Joe Geesin
---
| | |
| --- | --- |
| | Print this page in printer-friendly format |
| | Tell a friend about this page |