NAUGHTY BOYS Destiny Calls Music By Mail (2009)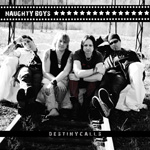 Swedenís Naughty Boys release new album 'Destiny Calls', a heavier effort than 2007ís 'R U Naughty Enough' and one that really does take the band up a notch. The album is a good solid, melodic rock record that takes some of the best bits of Ď80ís rock and throws them in the mix with some modern sounding production Ė the result being the catchy, hook-laden 'Destiny Calls'.
The title track opens the album and is probably the heaviest song featured. At the other end of the scale we have the radio friendly 'Donít Turn Around' and 'Eternity'- the latter reminding me of the big hard rock ballads that White Lion used to do so well. 'Broken' and 'Head Held High' are reminiscent of recent Bon Jovi (the good stuff, not the love songs and the country leanings!!). If I had to single out the best tracks amongst the 11 on 'Destiny Calls', and to be fair, itís not an easy choice- I would have to go for 'Walk Away', 'Endless Pain' and 'Fly With The Angels'.
This album is sleek, itís good and it will appeal to fans of Bon Jovi, Whitesnake, White Lion etc.
****
Review by Nikk Gunns
---
| | |
| --- | --- |
| | Print this page in printer-friendly format |
| | Tell a friend about this page |