Just witnessed your best live gig?.. send us a review!
MOTT THE HOOPLE
Hammersmith Apollo, London 3 October 2009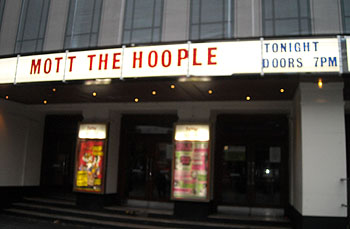 Amongst connoisseur rock fans this has to be the most anticipated gig since Led Zeppelin's reformation spectacular at the O2. A gig that I was lucky enough to attend and the same has to be said about tonight.
After a couple of warm up gigs in Monmouth, Mott The Hoople are back in town for a five night stint after an absence of some 37 years. The question on everyone's lips was will they be able to put in a performance that will stand up against those of their heyday. The answer to that is an emphatic yes.
Fans have travelled from all parts of the UK, Europe, USA and as far as Australia, some here for all five nights for this once in a lifetime occasion to see the original line up perform one last time, although drummer Dale Griffin is too ill to do a whole set and only appeared for a couple of encores. His vacant drum stool seat was filled in by Martin Chambers of the Pretenders who did an amicable job.
Unbelievably frontman Ian Hunter is now in his seventies and looks and sings like a man twenty years younger. Bassist Pete 'Overend' Watts is still the towering monster although the platform boots have been left behind in the back of his cupboard.
Mick Ralphs seems happy to be back on a big stage again and that especially goes for keyboardist Terence 'Verden' Allen who didn't have any success after leaving Hoople, but was feeling proud and most probably still pinching himself for getting Hoople back together after suggesting it to Hunter after one of his solo gigs.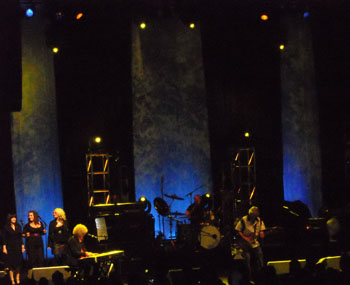 This was a seated concert but everyone was up on their feet throughout the gig straight from the opening bars of 'Hymn For The Dudes' and the dudes in the audience sang along to every track. Everything you wanted to hear was performed tonight.
It was intriguing to hear 'Ready For Love' and the riff to 'One Of The Boys', two tracks that Mick Ralphs would take with him for the first 'Bad Company' LP (Just listen to Can't Get Enough' and compare the two).
It was a nice touch to see family members doing the backing vocals on songs towards the end of the set including Tracie Hunter and also the daughter of Mick Ronson who later worked with Hunter.
Yeah its a mighty long way down rocknroll
As your name gets hot so your heart grows cold
And you gotta stay young man, you can never be old
All the way from Memphis
Words from 'All The Way From Memphis' have never seemed more apt. Def Leppard's Joe Elliott was out to sing along to 'All The Young Dudes' but he wasn't needed.
The gig ended with' Saturday Gigs' and this was one Saturday gig I won't forget in a hurry. I walked home all the way from Hammerphis. Great night out.

Set list: Hymn For The Dudes / Rock 'n' Roll Queen / Sweet Jane / One Of The Boys / Sucker / Knockin' on Heavens Door / The Moon Upstairs / The Original Mixed Up Kid / I Wish I Was Your Mother / Ready For Love / Born Late '58 / Ballad Of Mott/ Angeline/ Walking With A Mountain / Jumping Jack Flash / The Golden Age Of Rock'N'Roll / Honaloochie Baby / All The Way From Memphis
Encores: Roll Away The Stone / All The Young Dudes / Saturday Gigs


Review and photos by Mark Taylor
---