MORIARTY Gee Whiz But This Is A Lonesome Town (2009)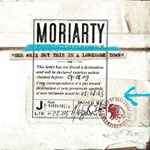 With their name sharing that of a character in Jack Kerouac's 1951, semi-autobiographical road trip novel (and not to be confused with a UK based prog rock band of the same name), Moriarty set out to ape that era with their own multi cultural slant on Americana.
Based in France, the 5 piece come from far and wide with parentage as far flung as France, America , Switzerland and Vietnam. And while their music is rooted in pre-WW2 American blues & folk music, it's been bended, twisted and flavoured by more modern influences such as U2, Hendrix and the Who.
That said, Moriarty are not a rock band. Far from it. But the re-emergence of Nashville in recent times has brought a new appreciation of folk, country and bluegrass and with it a new generation - often brought up on rock - who are reinventing the genre.
Moriarty go one step further, adding quirkiness, jazz, classics, blues and soul, opera and even Irish traditional music to their rootsy brew. Fronted by the evocative vocals of Rosemary Standley, the band's sound is built around anything they can lay their hands on - such as spoons, scotch tape trumpet, suitcases, typewiters and washboards, athough there's a cultured mainstay of acoustic guitars and some exemplary harmonica playing courtesy of Thomas Puéchavy, plus … electric guitar, dobro, banjo, fiddle, piano, hammond organ, bass, drums and more.
The album opens with the lilting Jimmy with Rosemary's gorgeous vocals, some sensual harmonica and finger plucking drawing the listener in. It should appeal to those who explore Gillian Welch or even Oh Laura territory. Loveliness that follows has a quirky whackyness to it, but by comparison – with it's cat calls and semi operatic interludes – it's more Poguesque and probably works better live. But Private Lily resumes where Jimmy left off – exploring indie bluegrass pastures, with Motel adding a blues twist to the party, again featuring some absorbing harmonica work.
Never one paced, the album continues to twist at every turn, never allowing the listener to settle, but always demanding attention with its intoxicating playing, rhythms and vocals. Gee Whiz But This Is A Lonesome Town has been 'doing it large' in France, shifting upwards of 70,000 copies. Like a whorehouse it has a fascinating appeal revealing layer after layer of imperfect schizophrenic beauty with each repeated visit.
A visit to the band's myspace page to sample their delights is essential. And Gee Wiz ... a compulsory purchase for those who like the quirky indie roots pedalled by the likes of Gillian Welch, Amy LaVere, Fleet Foxes, Oh Laura, and Le Reno Amps.
****
Review by Pete Whalley
---
| | |
| --- | --- |
| | Print this page in printer-friendly format |
| | Tell a friend about this page |