Moodies eclectic mix at legendary music fest...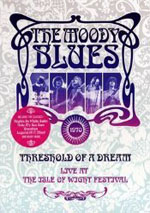 August 1970, and shortly after the release if their A Question Of Balance album, The Moody Blues played the legendary Isle Of Wight festival, and it is here on DVD for the first time.
The main show opens with a 20 minute documentary, with interviews with band members interspersed with period TV footage, before we get the live performance.
Very warmly received, well more enthusiastically actually, music rocks out highly at times (and surprisingly) and is more melodic at others. It mixes 60s pop and psych with RnB and prog rock and works well.
Tracks include 'Gypsy', 'Tuesday Afternoon', 'Ride My See Saw', 'Tortoise And The Hare' (a real rocker) and several other surprisingly uptempo and enjoyable numbers.
Well packaged, well filmed, and not bad at all.
****
Review by Joe Geesin